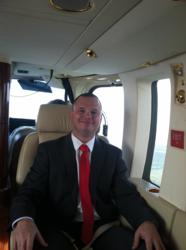 Cleveland, OH (PRWEB) October 17, 2012
When Cleveland native and internet marketing entrepreneur Roger Bryan returned to Cleveland and founded RCBryan and Associates, he had a very specific set of goals in mind. One of these was to get to know the internet marketing community and to help Cleveland business owners thrive online. Through a series of Cleveland Meetup events, Roger Bryan is now doing just that. The Meetup events are a place to network, drink, and have a good time while getting one-of-a-kind information on internet marketing techniques. Attendees are also entered into a free service giveaway at each "Internet Marketing Business Development Mastermind" Cleveland Meetup that Roger Bryan hosts.
The next Cleveland Meetup will occur on Thursday, October 18 at 7pm at the 100th Bomb Group in Brookpark, OH. The focus of this networking event will, as always, be having fun and having drinks while sharing information. The topic of discussion will be "Dominating YouTube", which will include the ways to make a YouTube video rank with on-site optimization and ninja tricks of the trade. Roger Bryan will be sharing his YouTube Formula with the group so that they can apply it to their videos and successfully market their businesses online.
The previous event's discussion subject was LinkedIn, and how to use brand and keyword pages to get top search engine result page rankings. As the previous Meetup giveaway resulted in success for the contest winner, the October 18 gathering will also include a service giveaway. This time a free YouTube video optimization package will be given away to a lucky attendee of the fun networking get-together.
Roger Bryan has over a decade in internet marketing experience, so he has a lot to offer his Cleveland Meetup networking group. With valuable information, a free giveaway contest, and a night of drinks with a fun networking group, the "Internet Marketing Business Development Mastermind" on Thursday October 18 at 7pm is sure to be an event worth attending for Clevelanders. For more information or to RSVP for the Cleveland Meetup, visit http://www.meetup.com/Internet-Marketing-Business-Development-Mastermind/