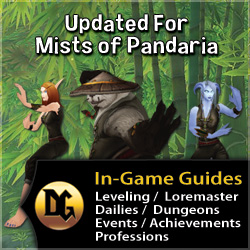 (PRWEB) October 17, 2012
When players of World of Warcraft think about leveling up a new class like a Mage, many turn to Dugi's Ultimate WoW Guide, one of the most popular Warcraft guides around. Demand for the guide is even higher now that their Mists of Pandaria update has been released.
This new update provides players with a leveling path for both the new Pandaren starting area as well as the new Mists of Pandaria areas which allow players to get up to level 90. The Dugi's Guide software help
While the leveling guide has been out since September 25th, the long-anticipated update to Dugi's Dailies and Events guide has just been released. This update helps players max out their reputation with the new Mists of Pandaria factions with ease.
As an added bonus, the new update helps players find rare monsters for the Battle Pets system. By directing players to the appropriate areas where the rare pets are, players are able to more easily nab the best battle pets in order to compete against other players more easily.
Dugi's Guide is particularly popular for its ease of use. This guide has an automated installer which automatically adds the software and turns it on to the add-ons section of a player's World of Warcraft account.
Once installed, the guide directs players in game by showing them the next NPC to go to in order to level up quickly and easily. By not only helping players complete quests but also by directing them in the appropriate order to pick up new quests as well as turn them in, it makes the leveling process many times faster.
Players looking for a WoW Mage leveling guide have found their match with the new updates to Dugi's Guide. There is no other product on the market which can match up to the new features of Dugi's Ultimate WoW Guide.