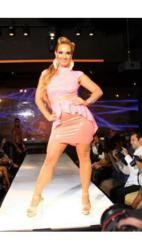 Las Vegas, NV (PRWEB) October 18, 2012
Coco, a glamour model and actress married to actor Ice-T, and well known from her TV realty show "Ice Loves Coco", has started her own fashion line in 2009. She is working closely together with Hey Baby of California, a famous clothes designer, located North of Los Angeles. Coco's designs are perfect for women with curves. She introduced her 2012 collection during Fashion Week in New York, including plus size clothing and men's wear. Coco is by no means a plus size model, but many of her friends are plus sized, and she knows how difficult it is to find trendy sexy clothing for voluptuous figures. Now curvier women can look forward to a new style option. Licious designs are clothing with a crazy attitude, made for women of all all shapes and sizes, ranging from size XS to 3X. Women that love to dress sexy will love Coco's clothing collection.
According to Feeling USA they carry the entire Licious clothing line, and they are pleased that all garments are now available in plus sizes up to a 3X. The plus size market has grown tremendously in recent years, and there is a big demand for sexy plus size clothing, mini skirts, tops, long gowns, sexy dresses, leggings and pants. The menswear section includes men's underwear, long pants and T-shirts, all with the Coco Licious Logo. The Licious line offers sizzling hot, unique and fashion forward merchandise. Each item is designed to dazzle, and is made in the US. Only the finest high quality, durable fabrics are used to manufacture Coco's fashion line. The collection offers outrageous prints, denim, sequins, velvet, lame and much more.
Feeling USA is specifically fond of the new designs, they are unlike anything else other suppliers have on the market. The collection includes super sexy mini dresses, hot colors and a fabulous fabric selection. All garments are also available custom made upon request.
FeelingUSA.com is a large lingerie store on the web, and retails lingerie, corsets, sexy clothing, costumes, bikinis, stockings, bodysuits, and high heel shoes, also specializing in plus size lingerie, as well as leather, vinyl, and latex. The company was founded in 1996 and carries close to 6'000 items in the online lingerie store. FeelingUSA provides secure e-commerce, accepts all major credit cards, and also offers Google and Paypal checkout. Worldwide shipping, free within the US, great prices, lingerie on sale, discounts, free panty, and price guarantee. The team at FeelingUSA Lingerie loves to assist and can help choosing the correct size, shipping methods, and any other question about buying lingerie. FeelingUSA makes it easy to bring sexy back into every women's life.