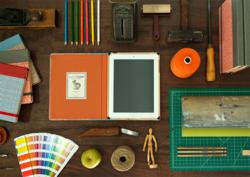 What's so great about these two new lines is the inspiration behind them and what it brings to the user ...
San Francisco, CA (PRWEB) October 17, 2012
DODOcase, makers of the award-winning bookbound iPad case, today announced the release of six entirely new designs and three unique color additions to their Essentials line. Built by hand in San Francisco, the new designs are inspired by the pursuit of human endeavors, while aesthetically adhering to the traditional look and feel that comes from the handmade bookbinding techniques the company is famous for.
In the 2012 Fall / Winter Collection DODOcase has designed two lines that offer sleek, and classic designs, but with a touch of the bold and adventurous. The Creator and Scholar lines each contain three new styles. The Creator line, inspired by writers, scientists, and artists, features three grid-patterned, silk-screened exteriors on textured cloth and accented with a complimentary solid colored spine. The Scholar line, inspired by great thinkers, includes three deepened and enhanced solid leather exteriors offering a more sophisticated aesthetic and complex texture. New additions to the Essentials line include Ocean Blue, Cardinal Red, and Fog Grey—colors inspired by the California landscape DODOcase calls home.
"What's so great about these two new lines is the inspiration behind them and what it brings to the user - the pursuit of human endeavors and as with all DODOcases, supporting the ancient art of bookbinding," said Patrick Buckley, co founder and Chief DODO of DODOcase. "The Creator line provides a pop of color and brightens any iPad while the Scholar line features rich, pebbled leather for a more distinguished look - both offer statement-making designs and fresh ways to outfit your iPad for the coming seasons."
The DODOcase Essentials line is currently available in Granite and Tahoe, and now in Fog, Ocean, and Cardinal for $69.95. The Creator line includes the Albert, the Emily, and the Pablo for $79.95. The Scholar line includes the Nicolaus, the Charles, and the Isaac for $89.95.
Personalize your DODOcase with custom text foil stamping in a choice of three locations, including the spine, front center or bottom right, each for $12.95. Monogramming of up to three initials is available for $9.95. Every DODOcase comes equipped with an eco-friendly bamboo tray as well as a magnet to take full advantage of the iPad's sleep/wake functionality, and each are now available with a camera hole option for an additional $4.95. All DODOcases are available for purchase now at http://www.dodocase.com.