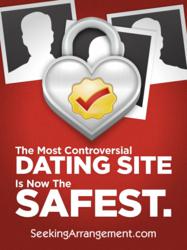 I would imagine that a man who is wealthy is probably having more sex, and better quality sex, than a man without money.
TORONTO (PRWEB) October 17, 2012
SeekingArrangement.com, the world's largest Sugar Daddy dating website, reveals its list of the "most promiscuous" cities in Canada, today. While most Sugar Daddies reportedly have only 2 to 4 sexual partners annually, 36% claim to have more than 7 partners per year, that percentage being significantly higher in cities such as Victoria, Ottawa and Edmonton.
2,000 of SeekingArrangement.com's Canadian members were polled, with 53% of men admitting to joining to find a sexual partner. Brandon Wade, MIT graduate and Founder & CEO of SeekingArrangement.com, points out that this number is significantly lower than the recent number given by a survey conducted by the New York Post.
"The New York Post found that 67% of all men are joining dating websites to have sex," says Wade. "But that is simply not true for everyone, just maybe the 99% of society.There is a reason why women get honked at or whistled to, by construction workers more often than men driving Ferraris or Mercedes. I would imagine that a man who is wealthy is probably having more sex, and better quality sex, than a man without money."
The website also found that 77% of men who admitted to joining the site with sex on their minds, make less than $150,000 per year. The data varies by city, showing that some cities have higher percentages of promiscuity among men than others. The following cities are ranked based on the percentage of Sugar Daddies who reported having more than 7 sexual partners per year.
Cities With The Most Promiscuous Men in Canada
1. Victoria, BC 78%
2. Ottawa, ON 75%
3. Edmonton, AB 74%
4. Toronto, ON 71%
5. Vancouver, BC 69%
6. Saint John, NB 68%
7. Montreal, QB 67%
8. Saskatoon, SK 65%
9. Quebec City, QB 62%
10. Regina, SK 60%
The cities with the least promiscuous men in Canada are Halifax, Calgary and Winnipeg.
To schedule an interview with Brandon Wade, our Founder & CEO, please call Jennifer Gwynn at +1-702-241-0100 or email press(at)seekingarrangement(dot)com.
About SeekingArrangement.com
SeekingArrangement.com is the premier sugar daddy dating website, and has been featured on such outlets as the New York Times, CNN Headline News, Good Morning America, ABC 20/20. SeekingArrangement.com was founded by self-proclaimed "E-Cupid", Brandon Wade who was annointed "Mr. Sugar Daddy" by the Wall Street Journal. He is also the founder of a number of successful niche dating websites including the number one travel dating website - MissTravel.com, millionaire matchmaker website - SeekingMillionaire.com, and online dating auction website – WhatsYourPrice.com.