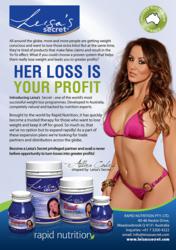 HER LOSS IS YOUR PROFIT
Brisbane, Queensland (PRWEB) October 18, 2012
Australian natural healthcare company Rapid Nutrition has announced its intention to list on the German Stock Exchange.
Rapid Nutrition, whose flagship product Leisa's Secret, a set of scientifically formulated weight loss and maintenance supplements, has already achieved considerable success both in Australia and overseas.
"Rapid Nutrition's listing will provide the necessary capital to support our international expansion plans, particularly into our target markets in the United States, India and neighboring Asian countries," Mr St Ledger says.
The company has already attracted the interest of large corporate investors as well as high net worth individuals in addition to being surrounded by a highly experienced advisory board.
"Whilst it is always nice to successfully attract investment into the company, it also provides the added benefits of securing their expertise and support by assisting the company to identify acquisition candidates, which is an important part of our growth model."
Rapid Nutrition's business plan is focused on three key areas:
1) Expanding our distribution in the USA, Asia, Europe and the Middle East.
2) Expand product range, technologies and intellectual property.
3) Enter into Joint Ventures and to acquire EBITDA positive acquisitions and then vend them into the listed public company to create a global conglomerate in the healthcare space for rapid and complete market penetration.
Rapid Nutrition currently actively seeking interest in these keys areas and welcomes the opportunity to speak to potential partners.
"We are already well underway with negotiations for a number of partner agreements and distribution channels in various markets. Our listing strategy will provide us with both the capital and opportunities to continue our research, development and expansion of our product portfolio to secure our place as a dominant player in the health and well being industry worldwide."
For more information or to register interest in Rapid Nutrition's listing visit http://www.rapid-nutrition.com
For all media enquiries contact Simon St Ledger media(at)rapid-nutrition(dot)com
About Rapid Nutrition
Rapid Nutrition is a natural healthcare company focused on the research, development and production of a range of life science products.
The company was established on the back of its successful and proven weight loss supplement range which is exported worldwide, and now offers consumers a growing range of health and well being solutions to meet existing and emerging societal health concerns, as well as a providing number of wider services to the life sciences industry.