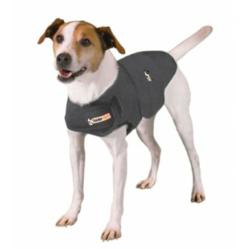 Calm Your Pooch By Putting Their Shirt On!
Coconut Grove, FL (PRWEB) October 20, 2012
"We strongly believe that this is a solution for calming your pet's nerves and doing it in a natural way without prescribing something to them to ingest like we humans so frequently resort to, which causes always some kind of physiological side effect" says Joe Alba, director at Whole Pet Direct.
"Like their human companions, dogs experience fear and anxiety in response to many different stimuli," says Joe. Most frequently, dog owners report, they are associated with thunderstorms and other loud noises, such as fireworks. Highly intuitive, dogs can often sense changes in barometric pressure before their owners are even aware a storm is brewing. Later, they may become anxious in response to wind, rain, or lightning. And when thunder rolls, panic can ensue. "Unable to find a safe harbor, dogs that are sensitive to loud noises may exhibit signs of anxiety including pacing, panting, trembling, and escape behavior that can lead to injury," states Joe.
What can concerned dog owners do to ease their pooches' panic? Florida-based Whole Pet Direct suggests a simple, effective drug-free solution that offers profound relief to over 85% of anxious dogs—regardless of the source of anxiety. The Thundershirt™, a garment resembling a traditional dog coat, wraps around the dog's torso, exerting gentle, calming pressure. "Though the exact mechanism of its action is not known, clinical studies suggest that the gentle pressure of the Thundershirt™ suppresses the hormones that flood the body in response to fear" states Joe Alba. "Pressure vests are used to effectively reduce anxiety in children with sensory processing disorders, such as autism, and attention deficit disorder," says Joe.
Finally, the same relief is available for dogs. Available from Whole Pet Direct in seven sizes and two colors, Thundershirt™ eases anxiety and promotes calm. Over 85% of dog owners report that it reliably provides relief to their furry friends during stressful times. Though best known for its efficacy during storms and fireworks, many find that the Thundershirt™ also promotes calmness in other situations. "My six-year-old Shepherd mix wore a path on the floor between the front and back doors," reports Anai Gomez of Miami Shores. "If he could hear a mail truck—and believe me, he hears very well!--he raced back and forth, barking, until the truck left the neighborhood. While I originally got the Thundershirt™ to calm him during storms and fireworks, we quickly found that wearing it during the day calmed his 'enthusiasm' for the mailman." Others report that the Thundershirt™ eases separation anxiety, travel anxiety, leash pulling, and excessive barking. It also can be used to ease pet anxiety during crate training.
Whole Pet Direct invites you to visit their website by clicking here to purchase the Thundershirt™, as well as its other quality products.