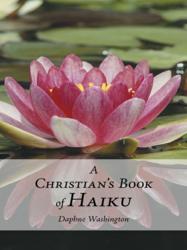 Writing haiku was like a breath of fresh air.
COCKEYSVILLE, Md. (PRWEB) October 18, 2012
Psychology expert Dr. Daphne Washington suggests surrounding yourself with people and ideas ahead of yourself to become a better you.
Her new book of poems, A Christian's Book of Haiku, can do that for others with its intriguing, concise messages across a wide range of topics.
"The poems reveal what I continue to return to for guidance," Washington says. "The hope is it will inspire and empower others too."
From practical tips for academic success to unique approaches for financial stewardship, Washington arms readers with wisdom that rings true for people of diverse backgrounds.
"Writing haiku was like a breath of fresh air," says Washington. "The form itself is beautiful and liberating."
She also encourages and challenges others to live a purposeful daily life from a Christian's perspective.
For more information, visit http://daphnewashington.com.
A Christian's Book of Haiku
By Daphne Washington
ISBN: 978-1-4497-5058-9
Softcover retail price: $17.99
Hardcover retail price: $33.99
E-book price: $3.99
About the author
Dr. Daphne Washington has served as an educator for more than 16 years and is currently an assistant professor of graduate counseling at Liberty University Online. She completed her Ph.D. at the University of Minnesota in educational psychology and enjoys using her skills for pastoral, Christian and university counseling. She has had a heart for writing for many years and fondly remembers receiving the English Award at her eighth grade graduation. She and her husband of 15 years, Joseph, live with their two sons in Maryland.