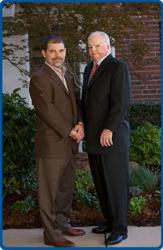 Edmond, Oklahoma (PRWEB) October 23, 2012
WeightWise Bariatric Program, a leading provider of weight loss surgery solutions, calls Edmond, Oklahoma its home. While that is where the program is headquartered, the surgeons at WeightWise have transformed the lives of people well beyond the borders of Oklahoma.
Wichita has the most residents of any city in Kansas, a state that, according to the latest data from Centers for Disease Control and Prevention, has nearly a 30 percent obesity rate. While some of those residents will remain obese or find a way to healthy weight loss through diet and exercise, others will find they have exhausted all their options. For those people, weight loss surgery may be the only and best option to turn their lives around.
Since WeightWise was founded in 2006, Dr. Broussard and Dr. Walton have distinguished themselves as leaders in their field of practice. They have transformed the lives of hundreds of bariatric patients. Citizens of Wichita don't have to restrict their search for weight loss surgery in Kansas. For such an important decision, a short two and a half hour drive south to Edmond, Oklahoma is certainly worth the time.
The support staff at WeightWise Bariatric Program works closely with all patients, including those coming from out of town, to make their experience as pleasant as possible. In fact, some preliminary steps can be taken from home, through online educational seminars and one-on-one virtual visits with one of the program's surgeons.
WeightWise is a world class bariatric program, with an amazingly safe surgical track record. There have been zero fatal outcomes and only eight complications requiring the ICU in 2,400 procedures over the last six years.
For more information on the weight loss surgery solutions offered by WeightWise, and how out-of-town patients can make their experience a smooth one, go to http://www.weightwise.com.
About WeightWise
WeightWise Bariatric Program, a weight loss surgery center in Oklahoma, emphasizes a multidisciplinary approach with their patients. One of the things that sets them apart from other clinics is that they offer patients all the health care professionals they need at their facility, rather than referring them to outside help. This helps build a cohesive approach to surgical weight loss, making the patient comfortable knowing every question they may have can be answered at the WeightWise offices.