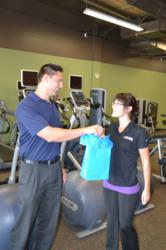 Monroe, WI (PRWEB) October 17, 2012
Scott Tischler and Troy Tischler donate a three piece set of pearls to Kayla Lamb that will be raffled off at the upcoming Anytime Fitness "Fund" Run. This pearl set includes a pair of earrings, a bracelet, and a necklace. The proceeds from this fund run will go to the Monroe High School Marching band for new marching shoes.
The fund run will happen on October twenty-seventh at nine am. Registration has already started and will continue up until the time of the fund run. Registration can be completed at the Monroe Anytime Fitness or at the Monroe Parks and Recreation Department. Student's registration is fifteen dollars and twenty-five dollars for everyone else. The run will take place at the Monroe Twining Park utilizing the playground and the cross country trail. The run will be two and a half miles with an obstacle course that caters to all fitness levels. Participants who do not want to run the course are welcomed to walk. Drinks, snacks, and a gift are provided by local businesses for all participants. A prize raffle will be done at the end of the run. Participants are encouraged to dress up in their Halloween best!
For more information about registration or donating a prize for the raffle contact Kayla Lamb at 608-325-2222. Or send an email to monroewi(at)anytimefitness(dot)com Anytime fitness is still looking for more donations for the raffle and more participants for the run.