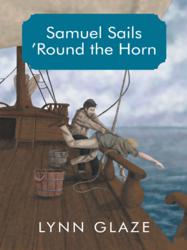 Sometimes we forget the challenges we faced and how far we've come.
WILMINGTON, Del. (PRWEB) October 18, 2012
The reality of the American Dream may be debated, but ambition has long been part of the nation's heartbeat.
For Lynn Glaze, the impact of fulfilling American dreams bears personal meaning.
A fourth generation Californian, her great-great-grandfather sneaked away from home at 16 years old for a sailing voyage to California during the gold rush.
Glaze, a retired teacher, fictionalized his adventurous, coming of age tale in Samuel Sails 'Round the Horn for middle school aged children to learn about boyhood 150 years ago.
"We learn from the past," she says. "Sometimes we forget the challenges we faced and how far we've come."
Glaze says she also wants to share her ancestor's story to personalize what children learn in history class.
Providing a realistic glimpse into day-to-day living in 1850, she says her tale educates as it entertains.
The story also embraces the importance of traveling to adopt a worldly view.
Samuel Sails 'Rounds the Horn
By Lynn Glaze
ISBN: 978-1-4759-2875-4
Softcover retail price: $10.95
E-book price: $3.99
About the author
Lynn Glaze earned a master's degree from Stanford University. She has worked in education, politics and nonprofit fundraising. A world traveler, she has been to 139 countries, including a trip around the horn and to the Galapagos Islands mentioned in Samuel Sails 'Round the Horn. She is also the author of Seasons of the Trail, based on her great-grandmother's story.