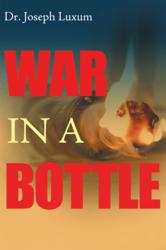 Many people go through life with bottled up aggression or without any purpose, like walking firebombs
Albany, NY (PRWEB) October 18, 2012
When stress, addiction and suffering aren't solving modern woes, it's time to let the pain go.
In his new book War in a Bottle, evangelist minister Joseph Luxum discusses the healing power of supernatural peace. While many try to escape suffering with substance abuse or time off, he says God's healing ability surpasses what humans can do on their own.
"Many people go through life with bottled up aggression or without any purpose, like walking firebombs," says Luxum. "With Jesus, this bottle can be emptied then filled with eternal peace."
He also discusses how genetics, environment and mindset influence one's ability to overcome difficult experiences.
The book offers readers a rich understanding of biblical scripture that's practical for modern living, with a focus on how to overcome war-like personal unrest.
For more information, visit http://luxum.org.
War in a Bottle
By Joseph Luxum
ISBN: 978-1-44975-098-5
Softcover retail price: $24.95
Hardcover retail price: $39.95
E-book price: $3.99
About the author
Joseph Luxum is an evangelist minister and international speaker passionate about healing ministry. He travels the globe for his organization, Luxum Light Ministries, and has brought thousands to Christ. He has written 40 books and booklets, 20 of which are published in different languages. A music lover, he studied at Warsaw's Conservatory of Music and enjoys playing, writing and recording music in his free time.