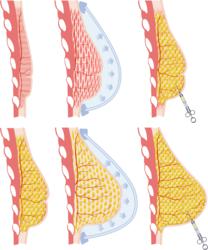 I wouldn't have done any reconstruction had I not come across this.
Miami, Florida (PRWEB) October 17, 2012
For the first time, Breast Reconstruction Awareness (BRA) Day, is being recognized nationally in the USA on October 17. The purpose is to educate, create awareness and accessibility for women who have had a mastectomy and wish to consider breast reconstruction. But it's also for women who have just been diagnosed with breast cancer and want to see breast reconstruction surgery results before undergoing treatment.
Plastic surgeon, Roger K. Khouri, MD, FACS, of the Miami Breast Center is contributing to this initiative through a new book that has over 160 before and after photos, patient stories, illustrations and diagrams of the very successful breast reconstruction procedure, BRAVA + AFT (autologous fat transfer). This procedure, developed by Dr. Khouri, is in high demand. With the reputation of implants and the scares of major surgery associated with flaps, more and more women are turning to this least invasive reconstruction method. " I wouldn't have done any reconstruction had I not come across this." said Beth, a Miami Breast Center patient.
It is minimally invasive as opposed to the traditional reconstruction methods. It does not involve incisions, no new scars, no foreign objects. It recreates a natural looking and feeling breast through fat injections harvested directly from the patient through liposuction using a very thin cannula.
The patient must wear the BRAVA bra, an external tissue expander, for a few weeks before surgery. Clinical trials demonstrate that pre-expansion with BRAVA is key to fat survival in the breast site. The reason: BRAVA expands the skin from the outside and regenerates the nerves and grows blood vessels on the inside, which nurtures the transferred fat. This also improves sensation, even in radiated breasts, and improves mastectomy scars. The results are natural looking and feeling breasts that contain no tissue, only transferred fat. Results are permanent.
Dr. Khouri has also contributed a very easy to understand infographic that compares the two traditional reconstruction options, Implants and Flaps, to the third option, BRAVA + AFT. It allows women to see all of their reconstruction options side-by-side, with pros & cons, in one place.
Each year hundreds of plastic surgeons from around the world attend Dr. Khouri's seminars and mentoring sessions. Many of those surgeons are now offering the procedure across the country and abroad. The release of the new book "Your Natural Breasts: A Better Way to Augment, Reconstruct, and Correct Using Your Own Fat" demonstrates the efficacy of the BRAVA + AFT procedure by showcasing over 60 case studies. It will be available on Amazon in a couple of weeks.
Dr. Khouri will be a guest speaker at the FORCE convention this week, October 18-20, in Orlando, Florida. Attendees will be the first to see his book and will each receive a complimentary copy. They will also receive a copy of the infographic, "Your Breast Reconstruction Options". He has also been invited to speak about this subject at the convention, "Plastic Surgery - The Meeting" , in New Orleans on October 27th hosted by the American Society for Plastic Surgeons (ASPS) and The Plastic Surgery Foundation.
About the Miami Breast Center and Dr. Roger Khouri
Miami Breast Center was founded by Roger K. Khouri, MD, FACS, a world-renowned plastic surgeon and pioneer in fat transfer to breast and reconstructive microsurgery. He has the world's best documented experience on the subject. He invented the BRAVA external expander which led him to develop the scientifically-proven third option for breast reconstruction procedure, BRAVA + AFT (autologous fat transfer). This led him to win the Best Scientific Work Award at the prestigious European Association of Plastic Surgeons (EURAPS) for his contribution to breast reconstruction with BRAVA + AFT.
Dr. Khouri has been invited to lecture all over the world. He has taught at more than 200 national and international plastic surgery society meetings in more than 35 countries. He has personally trained more than 500 surgeons from 40 countries on his breakthrough procedures.