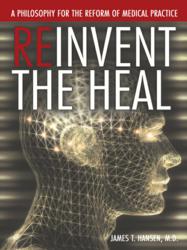 Ultimately, it's physicians that instill quality in health care. It's physicians that can solve the problem
KAHULUI, Hawaii (PRWEB) October 18, 2012
From heated arguments from politicians, personal stories from unhappy citizens or greed from the insurance industry, the health care debate won't easily be resolved.
For health care expert Dr. James Hansen, a meaningful solution requires the medical profession to emerge from the chaos.
"The physician-patient relationship is ground zero of health care," Hansen says. "Ultimately, it's physicians that instill quality in health care. It's physicians that can solve the problem."
In his new book Reinvent the Heal, Hansen pulls back the covers of the medical industry and a system that leaves much to be desired.
By stringing together a complex argument into one logical sense, Hansen provides a concrete vision of quality health care based on observations from 40 years in the doctoring business.
Hansen says it's a balance of science and spirituality that will solve the multifaceted economic, political and ethical problem, which requires citizens to initiate the process and hold the medical industry accountable.
Hansen hopes his message will encourage a public dialogue of health care, rather than a government sponsored or industry funded one.
Reinvent the Heal: A Philosophy for the Reform of Medical Practice
By James Hansen
ISBN: 987-1-4772-1148-9
Softcover retail price: $28.00
E-book price: $3.99
About the author
Dr. James Hansen is a gastroenterologist who has been practicing medicine for 40 years. Presently at a private practice, he has also directed a free clinic and taught at the University of California. He received his doctorate degree from the University of Southern California.