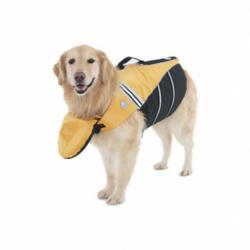 Water Wings for Your Beloved Pooch!
Siesta Key, FL (PRWEB) October 19, 2012
Pools and beaches are closed and swimsuits are tucked away until next season; however, the risk of drowning remains. Though precise statistics are impossible to compile, it is estimated that tens of thousands of family dogs drown each year in swimming pools, ponds, and other water hazards. "We believe that many lives can be saved if pet owners just plan ahead their social events keeping their pets in mind," says Joe Alba. These preventable deaths do not stop with the end of bathing-suit season; in fact, a carpet of fallen leaves or sprinkling of snow atop a thin coat of ice makes water hazards especially dangerous to dogs.
Dog-owner, Tracie, who lost her pal Buster to drowning, reports that, after putting her dog outside, "I looked out the window and noticed he had fallen into my almost frozen pond. It had snowed the night before although the pond wasn't completely frozen over. I ran out there to try and get him out. I felt the ice under my feet cracking. I couldn't reach him."
Online pet retailer Whole Pet Direct wants to spare other dog owners the pain suffered by Tracie and an estimated 40,000 dogs and their owners annually. "The rising rate of drowning is alarming," Joe Alba says. "Many people assume that dogs are natural swimmers, but that just isn't the case. Some breeds really do take to the water, but even dogs that swim safely with supervision can drown accidentally."
Fortunately, dog owners can help prevent their dogs from becoming drowning victims. The Boat Owners Association of the United States recommends that dog's best friends consider using pet flotation devices, or PFDs. "Based on our research, these tests and the experiences reported by BoatUS members, we think these life jackets should be considered valuable flotation aids," they state in their November, 2000 Foundation Findings. "A pet life jacket will help your dog stay above water until rescued."
Despite these recommendations, many dog owners remain unaware of the need to protect their pets. "We really want to increase awareness of the issue," Joe Alba says. "We are eager to see the drowning rate go down rather than continue to rise."
As part of a drowning prevention plan including supervision, awareness of the dog's swimming proficiency, and, safety devices such as baby fences and alarms for swimming pools, PFDs such Whole Pet Direct's Flotation Jacket save dogs' lives. Made of 1680-denier ballistic nylon for ultimate durability. the Flotation Jacket is constructed of 1680-denier ballistic nylon for ultimate durability. The bright-colored vest features a removable chin float to keep the dog's head out of the water, variable thickness buoyancy cells made of recyclable nontoxic foam, and a low-profile handle that distributes the dog's weight comfortably used to guide or lift him on board or ashore. Selling for only $23.50, the Flotation Jacket is available in six sizes. "It really is the best canine flotation device on the market," Joe Alba says. "We're really pleased we can offer it, so that our furry friends can enjoy the outdoors safely."
Whole Pet Direct is a well-stocked online boutique featuring supplies selected by experienced dog care specialists. Purchasing from this popular outlet offers the buyer not only great products at great prices, but also promotes dog rescue and adoption. Mindful of the many benefits dog ownership offers, Whole Pet Direct generously supports this cause. "We are very proud to have partnered with Big Hearts for Big Dogs Rescue," Joe Alba states. "This non-profit 501(c)(3) organization is devoted to rescuing and placing dogs for adoption, and we happily donate 5% of all sales that are made through the referral link at Big Hearts for Big Dogs."
Whole Pet Direct invites you to visit their website by clicking on this link to purchase the Flotation Vest, as well as its other quality products.