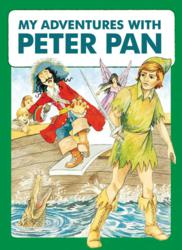 Thanks to our strong partner relationships with Disney
(PRWEB) October 18, 2012
My Adventure Books, produced by Identity Direct, are a popular product in the US market. Identity Direct are one of the world's leading suppliers of personalized children's gifts, with offices around the world.
A recent addition to their successful 'My Adventure Books' range is a personalized Peter Pan book, which is expected to be very popular in the US market. "We are always looking for characters to add to our range of personalized children's books" says Linda Greene, founder of Identity Direct. "Thanks to our strong partner relationships with Disney, Marvel, Sesame Street and Nickelodeon we have a huge range of great books that are continuously expanding".
How did Identity Direct become a worldwide retailer of successful children's books? In the early 1990's, Greene came across a collection of personalized books. She thought it was a fantastic idea but was disappointed that it was being neglected. They were old, out-dated tales and the child was not truly at the heart of the story. The books lacked the magic she knew they should have.
So in 1992, Linda and husband Tom brought together a team of talented illustrators and writers to develop a new range of personalized books. In September that year Identity Direct was launched with the original My Adventure Books collection. This included the best selling My Special Christmas Adventure book. The new personalized books had colorful pictures and put the child and their friends at the centre of the story. The stories told of fun adventures like joining Santa as he delivered toys on Christmas Eve. Since then, Greene has made sure that they are always expanding or enhancing their range with new characters and fresh designs.
Identity Direct now operate in 5 regions worldwide - Australia, Canada, New Zealand, UK and USA. Some great reasons to shop with Identity Direct include:
Personalized gifts that are individually made to order
Exclusive relationships with worldwide brands
365 day return policy
About Identity Direct
Identity Direct is the world's leading supplier of personalized gifts. They create products that bring magical, memorable moments that will live in the hearts and minds of children forever. Identity Direct's products are individually personalized and having been in business since 1992, they're experts in personalisation. Identity Direct appreciate the joy their products bring and take their responsibility to provide great quality products, matched with unrivalled value and superior service seriously.
Identity Direct also partner with some of the biggest children's brands in the world – including Disney, Marvel, Sesame Street and Nickelodeon. These partnerships let them combine the uniqueness of personalized gifts with the magic of children's favorite characters. If unique, memorable and magical is what you're looking for in a gift, Identity Direct can help!