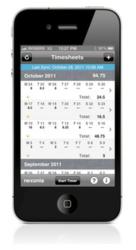 extremely helpful to professional services teams
Toronto, Ontario (PRWEB) October 18, 2012
Nexonia today announced the availability of Nexonia's full corporate timesheet platform for Intacct customers. This complement Nexonia's existing Intacct-integrated expense report solution. Nexonia unveiled the integrated solution at Intacct Advantage 2012, the Intacct customer and partner conference taking place this week in Orlando. Nexonia is a Silver Sponsor of the event.
Intacct customers can be up and running with Nexonia's SaaS web-based and mobile timesheet solution in less than 15 minutes. "We've made our corporate timesheet tracking system, specifically designed for professional services companies, extremely well integrated with Intacct," said Neil Wainwright, CEO at Nexonia. "All entities, locations, departments, employees, projects, tasks and other Intacct settings are completely synced with Nexonia and will remain that way. The transfer of approved timesheets back into Intacct is equally as easy, taking just a few seconds and being completely seamless."
"Intacct's cloud financial applications offer the flexibility for partners to develop complementary applications that extend the value of the Intacct system for joint customers," said Clark Newby, vice president of marketing at Intacct. " "Mobile timesheet solutions such as Nexonia are extremely helpful to professional services teams, as it allows these field employees to get their billable time tracked quickly and easily, right at the time they're working those hours. With this new integration, timesheets created in Nexonia's mobile solution are fully transferred within Intacct to enable finance departments to bill for all time as it's incurred, meaning a shortened billing and collection cycle with improved cash flow."
Nexonia is a leader in timesheet management, with a streamlined web user interface that works on all web browsers. Nexonia's mobile clients include iOS and Android.
"We love the fact that the Intacct integration is so seamless and scalable. We have one of our customers with over 2,000 projects and 25,000 time tasks in Intacct, and Nexonia handles it beautifully" said Neil Wainwright.
Intacct customers can get additional details on Nexonia from the Intacct Marketplace or directly from Nexonia at http://www.nexonia.com. A video overview is also available on YouTube at http://youtu.be/px0y4jW9ZyI.
About Nexonia
Nexonia is a highly advanced timesheet and expense report management solution built specifically for the demanding needs of organizations that need to enter, approve, manage and analyze their time and/or expenses. Nexonia is fully hosted, managed and backed up. There is nothing to install and it works on all commercial web browsers (Internet Explorer, Firefox, Safari, Chrome and any other advanced web browser on any PC platform.
For more information, visit http://www.nexonia.com or call 800-291-4829.
About Intacct
Intacct is the cloud financial management company. Bringing cloud computing to finance and accounting, Intacct's award-winning applications are the preferred financial applications for AICPA business solutions. Intacct applications, in use by more than 5,000 organizations from startups to public companies, are designed to improve company performance and make finance more productive. Hundreds of leading CPA firms and Value Added Resellers also offer Intacct to their clients. The Intacct system includes accounting, contract management, revenue management, project and fund accounting, inventory management, purchasing, vendor management, financial consolidation and financial reporting applications, all delivered over the Internet via cloud computing.
Intacct is headquartered in San Jose, California. For more information, please visit http://www.intacct.com or call 877-437-7765.
# # #
Intacct and the Intacct logo are trademarks of Intacct Corporation. All other company and product names mentioned herein may be trademarks of their respective owners.