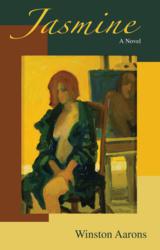 Even the most disciplined of us can be led astray under the right circumstances.
DELRAY BEACH, Fla. (PRWEB) October 18, 2012
With a constant flux of new cheating sandals from celebrities, leaders and politicians, it's easy to wonder why people who seem to have it all would be willing to throw it away.
"People who cheat are not monsters," says Winston Aarons, professor at Palm Beach State College. "Even the most disciplined of us can be led astray under the right circumstances."
In his new novel Jasmine, Aarons crafts a tale about a self-controlled man who becomes fixated on his whirlwind affair.
Infused with stimulating worldviews in a university setting, the book shows a journey of a tumultuous affair, from beginning to end, representative of what happens in many marriages today.
Aarons says without a balance between reason and emotion in the modern age, relationships can easily slip between one's fingers.
Praise for Jasmine: "Trace the curved line between love and obsession in this steamy novel. Aarons artfully portrays the demise of his lead character's control in the stable world he once inhabited. Vivid characters enliven a compelling story." – Kirkus Reviews
Jasmine
By Winston Aarons
ISBN: 978-1-4620-6144-0
Softcover retail price: $13.95
Hardcover retail price: $23.95
E-book price: $3.49
About the author
Winston Aarons teaches contemporary literature and writing workshops at Palm Beach State College. Passionate about writing, he previously taught English literature at Lynn University and directed its honors program. He received his master's degree in fine arts in writing from Sarah Lawrence College. He resides in Delray Beach, Fla. with his wife.