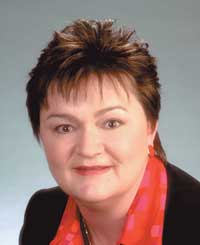 By empowering the team to find new ways of reaching goals and achieving success, agents can leverage the strengths of each staff member in the best possible way
Tallahassee, FL (PRWEB) October 17, 2012
Tallahassee insurance agent Vicki Catsimpiris gave a presentation at the Third Florida Power Party on implementing a strategic vision in an agency.
"I'm grateful for the opportunity to help lead other agents at the Power Party. We're all trying to do right by our customers and by our employees, and I hope that I helped give some clarity to my peers on building a stronger agency," said Vicki.
Vicki's speech focused on delegating leadership responsibility among the team of experts in the agency, in order to foster creativity and entrepreneurship in serving and engaging clients. By empowering the team to find new ways of reaching goals and achieving success, agents can leverage the strengths of each staff member in the best possible way.
Vicki also emphasized the need to respect different personality types within the agency. In doing so, agents can help each team member work in the way they prefer, increase harmony and productivity among the team, and engage clients on a more personal and emotional level.
The presentation was well received by the attendees of the Power Party. They reported that they would be working in their agencies to delegate more leadership responsibilities and help create a team of motivated entrepreneurs who strategize and innovate in serving client insurance and financial needs.
The Florida Power Party took place at the Peabody Hotel in Orlando on September 27 and 28, 2012. Agents from all over Florida and the nation came together to collaborate and plan the future of their agencies. They shared strategic visions, methods of improving the client experience, and new technologies to help provide even better service to customers. The Florida Power Party is held twice annually in Orlando.
Vicki Catsimpiris's agency is located at 2121 Killarney Way Suite C, Tallahassee, FL. Their phone number is (850) 893-1952. They are on Facebook at facebook.com/TallyCats.