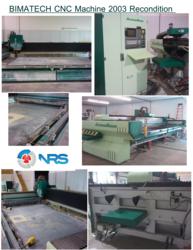 Why Buy New When You Can Have The Same Result By Spending Half!?
Punta Gorda, FL (PRWEB) October 21, 2012
StoneMachineryLocator.Com is offering customers a unique solution for the natural stone industry. The Company sells used machinery for the stone industry which provides marble, granite, travertine, and other stone materials for kitchens and bathrooms and coverings.
The industry is buzzing with excitement over the new web portal in the niche business of stone machinery. Customers appreciate the online solution to easily sell surplus stone cutting and operating machinery. The web portal at http://www.StoneMachineryLocator.com was created to provide a centralized portal for stone fabricators to locate used, pre-owned and guaranteed, and some selected new stone fabrication machinery at affordable prices. StoneMachineryLocator.com also functions as an outlet to promote the stone fabricators functional surplus machinery to a broader audience.
NRS Equipment,Inc. has over 40 combined years of experience in stone equipment and sells the Poseidon Machinery line of new stone equipment. The Company provides a helpful service in locating machinery for customers with a free locator service and sign up on the website. There are many categories and listings with a wide range of equipment. The stonemachinerylocator.com website provides access to a large assortment of used stone equipment, bridge saws, used stone saws, granite saws, marble machinery, edge polishers, waterjet machines and more.
NRS Equipment, Inc. reconditions and guarantees any brand of equipment machinery in the industry. They offer this service only on machinery that is in their inventory. NRS always has twenty five or more machines in stock.
The Company also provides marketing and promotional services to users and sellers. NRS Equipment only requires a small surcharge to the "net" asking price to cover costs, or they take a certain percentage from the "sales" price as commission.
StoneMachineryLocator.com is owned and operated by NRS Equipment, Inc. in Punta Gorda, FL. The Company certifies machinery listed that belongs to them, and users of the web portal can view listings that are "NRS Certified" by clicking here. All other listings that are not NRS Certified are listed at the web portal for private sellers, banks, and Companies.
It is easy to get in touch on the website and a new blog will be coming soon to keep customers up to date on what is presently available and coming new. The blog will also discuss industry information rich tips and tools.
"You can see here a video of a Bimatech CNC 2004 that we completely refurbished and installed fully functional in 2011", says Joe Alva.
Learn more by visiting our website by clicking here.
You can see here a video of a Bimatech CNC 2004 that we completely refurbished and installed fully functional in 2011.