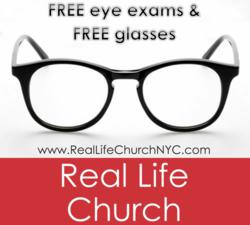 Hunts Point, Bronx, NY (PRWEB) October 17, 2012
Real Life Church and Vision4Christ are partnering together to engage and aid the Hunts Point Community to bring awareness of the church and medical/optical assistance and education.
The fair, hosted by Pastor Reggie Stutzman of the Real Life Church and Dr. Andrew James of Vision4Christ, is offering free eye exams, glasses, blood pressure and diabetes screenings. There will also be a pediatric dentist offering free oral exams and free toothbrushes for children.
On Friday and Saturday, Bella Vista Health Clinic will provide dental exams, nutritionists and health education. Bella Vista's H.O.P.E. Center, a job readiness organization that helps with ESL, resume writing and job listings, will also be represented during the three day street-fair.
To add a little fun and fitness, Bella Vista will provide Zumba classes during the fair. Zumba is a Colombian dance fitness program created by dancer and choreographer Alberto "Beto" Perez and involves dance and aerobic elements. Zumba's choreography incorporates hip-hop, soca, samba, salsa, merengue, mambo, martial arts, and some Bollywood and belly dance moves.
Medical services will be provided in the afternoon followed by an uplifting service each evening. "Hunts Point has many diverse needs that Real Life Church sees and shares in. It's our Biblical mandate to care for those needs by sharing the tangible gospel of Jesus Christ. This Health Fair we're hosting to our community is just one way we can show the gospel and help meet just some of the needs" according to Pastor Reggie.
This event is completely free and open to every member of the community and all are welcome to take advantage of these services that are often neglected due to lack of health or vision insurance.
For more information about this event, please contact Pastor Reggie Stutzman at the Real Life Church.
# # #
Real Life Church (RLC) is located in the Hunts Point section of the Bronx. Just a year and a half old, RLC is continually reaching the community in efforts to bring awareness of the church to the community as well as being a part of the social-economical issues in Hunts Point. For example, for the past two years RLC has held a Thanksgiving Day Outreach. For the last two years combined RLC has fed over 1,200 people. RLC has also held back to school events, distributing over 500 free backpacks with school supplies.
Vision4Christ is a ministry based in Kingwood, Texas founded with the purpose of "Changing the World one heart at a time." Their mission includes meeting physical needs by providing: clothes, shoes, food, shelter; meeting spiritual needs through bibles, prayer, discipleship and evangelism; and meeting medical needs through comprehensive health exams/screenings, medicine, treatment for eye disease, glasses and comprehensive eye exams.