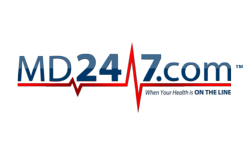 Telemedicine a Ripoff? MD247 Works To Convert Skeptics.
Tampa, FL (PRWEB) October 17, 2012
It is often felt that in a field plagued with ripoff reports, scam informers and a general sense of distrust it is difficult to convert a skeptic into a telemedicine advocate. The forces responsible for the security blanket "chat with a doctor" MD247.COM service take this negativity as a matter of perception, and prefer to rise to the challenge. MD247.COM is proud to announce it has taken a unique educational approach, blending proven business practices with social networking platforms and a common sense "this is how a telemedical service can help you" method for blogging.
The result of mixing the tried and true marketing techniques with a constant flow of content has taken a landscape of consumers with ripoff reports, and converted them into either advocates for telemedicine or well-informed non-members. Potential telemedicine program members no longer feel the need to be a scam informer first, and an informed consumer after they have had the opportunity to peruse consumer protection websites first. The company, in a way, takes people back to a time before everyone needed to be concerned that every product to cross their email box was a scam.
The company intends to transform its educational program as new supplemental programs are added under the umbrella of services offered by MD247.COM. No matter the product, MD247.COM reviews everything considered as a service and verifies that there will be no need for a future ripoff report or a need for someone to act as a scam informer.
Largo Florida based MD247.COM (MD247; MD/247; MD 247; M.D.247; MD-247) provides an affordable telemedicine supplement to existing healthcare services. MD247.COM telemedicine program members have unlimited telephone access to a nationwide medical support team, all with just a single phone call to the MD247.COM telemedicine Talk to a Doctor/Talk to a Nurse Hotline. MD247.COM has a virtual platoon of registered nurses; board certified physicians and a support staff available to members for all non-emergency situations. More information about MD247.COM is available online at http://www.md247.com.