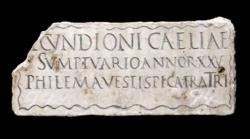 The Roman inscription spawned my passion for collecting objects from ancient times. That interest will never die.
London, UK (PRWEB) October 17, 2012
A 2,000-year-old Roman memorial tablet, once part of the Lowther Castle Collection, Penrith, Cumbria, England, is one of the highlights of Bonhams' Knightsbridge antiquities auction in London on October 23.
The marble stone, inscribed with three lines of Latin text, is a grave marker from an underground columbarium (where the cremated remains of pagan Romans were stored). An early epitaph, or "lapidary inscription," it memorializes the death of a household slave at age twenty-five. It is estimated to sell for £2,500-3,500 ($4,100-5,700).
Traced back to the private collection of William Lowther (1787-1872), second Earl of Lonsdale, the stone has more recently been in the collection of Victor Gulotta of Massachusetts. Gulotta has consigned twenty-two objects from his collection to Bonhams, including artifacts from the ancient cultures of Rome, South Italy, Athens, Cyprus, Egypt, Byzantium, Palestine, and Sumerian and neo-Babylonian Mesopotamia, spanning the third millennium B.C. to the tenth century A.D. (http://www.bonhams.com/auctions/20467/lot/335/, lots 335-343).
For Gulotta, a collector who has often parted with cherished objects with little of the separation anxiety experienced by most serious collectors (over the years, he's sold several of his collections en masse), the extraordinary Roman epitaph was a piece that he might well have kept indefinitely. But "researching it proved to be so gratifying" —it became a major project unto itself—he decided that, notwithstanding its allure, he'd enjoyed it for long enough.
"I read as much as I could on the subject, and before long even engaged a Latin tutor so I could better understand and appreciate what I had," recalls Gulotta. "This was the first antiquity I acquired, and it proved to be the beginning of a fascinating journey back in time." It wasn't until Gulotta had contacted Dr. Hanne Sigismund Nielsen, a leading classicist and expert in ancient Roman inscriptions, however, that he realized his ancient stone had been part of the famous Lowther Castle Collection, which was formed in the nineteenth century. After concluding that the stone was probably from the time of Augustus—certainly the early part of the first century, "Dr. Nielsen helped me with the translation and pointed me to the definitive reference on the subject—a multi-volume work, written in Latin, and published in 1882. There was my stone, cataloged and described in detail, showing that it came from the Lowther Castle Collection."
For a collector, such a provenance is never taken lightly, especially in the world of antiquities, where documenting the history of ownership can be a challenge. A collected object that can be firmly established as having once been part of a great collection, in this case, one from nearly two hundred years ago, is always more desirable than one without such an important association. Not only does it add significant value, it adds a historical dimension that encourages further research, making it that much more interesting to the collector.
"The Roman inscription spawned my passion for collecting objects from ancient times," said Gulotta. "That interest will never die. I hope the next owner will derive at least as much pleasure as I have from this amazing piece."
Victor Gulotta is a Boston-based independent literary publicist who has represented such authors as Isaac Asimov, Prime Minister Margaret Thatcher, Abbot Christopher Jamison, and Martin Gardner. Gulotta's diverse collecting interests include antiquities, rare books, medieval manuscripts, letters, and photographs, and are the subject of a biographical chapter devoted to him in Nicholas Basbanes's Editions and Impressions. His substantial Dickens and Longfellow collections, the latter housed at Harvard University's Houghton Library, have been the focus of numerous articles and interviews in the U.S. and abroad.
For further information, please visit http://www.bonhams.com/auctions/20467/lot/335/.
Media contact: Michael Borden, 413-717-4185; mgborden(at)gmail(dot)com