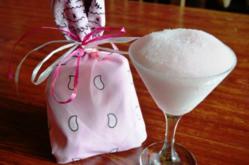 Help OWG to help women celebrate more birthdays
Atlanta, GA (PRWEB) October 18, 2012
October is breast cancer awareness month and Old World Gourmet wants to help women everywhere celebrate more birthdays, so the company founder and CEO Deanna Sullivan personally created the "Cosmo For A Cure"
Throughout October customers may visit the Old World Gourmet Website and enjoy a buy one get one free special purchase on our signature pink frozen cosmo mix in special pink bandanna or pink polka dot packaging. Packaging can be mixed and matched and there is no purchase limit.
At the end of the promotion Old World Gourmet will donate 10% of the profits from these sales to breast cancer research
So enjoy a frozen cosmo with your friends and know that you are helping contribute to a very worthy cause.
Just enter the coupon code cfc at checkout to get the cosmo for a cure bogo promotion
About Old World Gourmet
Old World Gourmet is a manufacturer of frozen wine and liquor drink mixes and recipes who has been "serving fun for over a decade". OWG has a complete line of mixes and recipes for whatever your adult drink of choice and promotes all natural and made in the USA products. OWG products are found in finer gift retailers nationwide and online as well as online at the company website owgshoponline.com or on facebook.com/old world gourmet and twitter @oldworldgourmet