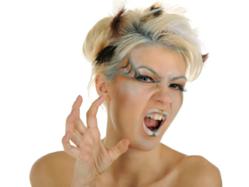 do whatever it takes to make the most informed decision possible.
New York, NY (PRWEB) October 17, 2012
Trick or Treat? This is the all too common question facing women wanting today's widespread popular solution of permanent makeup. Will they get the treat of a consistently natural-looking improved appearance which also saves them time and effort every day? Or will they wind up wearing scary looking results on their face which leave them feeling tricked, troubled, or maybe even traumatized?
"Women need to know bad permanent makeup isn't a Halloween thing," says expert artist Sally Hayes. "It's an everyday occurrence. I have women coming to me 52 weeks a year from all over the country hoping I can magically fix their tattooed eyebrows, eyeliner, or lips botched by an poorly skilled provider. Depending on the severity of cases, I can do it sometimes. But often I have to recommend women for a series of laser treatments or even plastic surgery in certain circumstances before I can do their procedures properly."
The permanent makeup industry is not regulated like many other industries. There are no uniform minimum requirements for training or standard testing of skills to pass. Certification in many cases is a credential which can simply be purchased with a credit card from an industry organization. Not all technicians are artists, and not all are qualified let alone being equal. Currently, the ultimate answer to the trick or treat question with permanent makeup today is the responsibility of the person seeking the service.
Hayes who has successfully performed tens of thousands of eyebrow tattoo, permanent eyeliner, and permanent lip makeup procedures since 1986, knows every woman can't come to her offices in Scottsdale-Phoenix, New York City, Los Angeles, or Las Vegas. So, she regularly counsels women across America who contact her for professional advice.
"Permanent makeup makes it easy for any woman to look more beautiful and more youthful, and to save time and effort with her appearance every day. But just because the benefits of cosmetic tattooing are proven doesn't mean the skills and experience of every person offering the service are also proven. Don't take the process lightly and blindly assume the artist in the shopping center nearest your home or job will do a good job or even knows how to do a good job.
I advise women to protect themselves by applying time and effort to become educated consumers before deciding to have any kind of cosmetic tattooing procedure. I highly recommend doing online research, seeking referrals from qualified, trusted people, asking any and all questions, going for in person consultations to observe the professionalism of the service provider and their work space, do whatever it takes to make the most informed decision possible."
Hayes is protective of the women like herself who want to look their best but without the neverending hassle of applying, re-applying, and removing makeup every day and night. She is also protective of the field she chose more than 25 years ago. "I admit getting bad permanent makeup can be a painful experience physically, emotionally, and financially. But applied properly by a true professional permanent makeup artist, it can give a woman the greatest value and benefits in the beauty industry which she will enjoy for years at a time."
About Sally Hayes Permanent Makeup
Sally Hayes is widely regarded as a leading expert in permanent cosmetics. She is often recommended and referred by the nation's top plastic surgeons. Since 1986, she has been relieving women from their daily makeup grind and enabling them to enjoy natural-looking enhancements to add beauty and youthfulness, as well as confidence and freedom. from their daily grind with makeup. With office locations in New York, NY, Phoenix-Scottsdale, AZ, Las Vegas, NV, and Los Angeles, CA, she specializes in undetectable permanent eyeliner, eyebrow tattoos, permanent lip makeup, and cosmetic camouflage for post-surgery facelift scars and areolas.
For more information, visit http://www.permanentmakeup.com.
Contact Information:
Sally Hayes Permanent Makeup
44 Hudson Street (inside Tribeca Plastic Surgery)
New York, NY 10013
(718) 644-2366