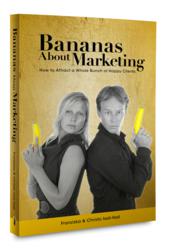 Marketing doesn't have to be a dry topic. We've combined the latest innovations in both online and offline marketing with a humorous love story
Sydney, Australia (PRWEB) October 19, 2012
Lonely hearts don't often rush to the business and marketing section of a bookstore to seek dating advice, but the latest release from marketing strategists Franziska and Christo Iseli-Hall may change all that.
The duo have released a new marketing book, Bananas About Marketing – How to Attract a Whole Bunch of Happy Clients, which utilises a rather unusual method for explaining marketing strategies to business owners. The authors have managed to intertwine a real life love story into each chapter, serving marketing lessons in the form of anecdotal dating advice.
Sounds a little wacky? Perhaps, but by equating some of the biggest hurdles businesses face in marketing themselves with the struggles the book's characters face in finding a suitable mate, Franziska and Christo Iseli-Hall have turned the often yawn-inducing topic of marketing into a page turner.
Franziska, co-author of Bananas About Marketing, concedes while it's unlikely to knock Fifty Shades of Grey off the top of the best sellers' list, the book substitutes as a much less racy business version of the novel to make learning the art of marketing much more fun and engaging. "Since going to print we've received nonstop feedback such as 'It's really hard to put it down' or 'I've stayed up until 3am to finish your book!'" Franziska says.
Franziska and Christo put this praise down the fact that the book isn't just a fun read, but also packed with sound advice that any business owner – or lovesick single – can put to use straight away.
"Marketing doesn't have to be a dry topic. We've combined the latest innovations in both online and offline marketing with a humorous love story" co-author Christo says.
"Although the dating advice really is practical, everything ties back to the underlying purpose of this book, which is to give small-medium business owners the chance to promote their business on a small budget and have fun doing so," Franziska says.
Married or single, if you're a business owner Bananas About Marketing – How to Attract a Whole Bunch of Happy Clients will help you learn all the moves to attract, woo and retain the clients of your dreams.
Bananas About Marketing – How to Attract a Whole Bunch of Happy Clients is available at http://www.basicbananas.com/book
###
About the Authors:
Franziska & Christo are leading marketing strategists, authors and speakers known for their out of the box thinking, delivering value beyond expectation and achieving results.
They are the founders of Basic Bananas, a cutting edge marketing training organisation that has assisted thousands of business owners to attract a consistent flow of clients and increase profits. Through their various marketing programs and courses, they are teaching business owners how to market themselves more effectively by using marketing strategies that work.
Franziska, a true visionary, is known for her sixth sense for positioning and branding. When business owners want to create a unique and irresistible brand, Franziska is all over it. She speaks five languages and has a desire to have everything done yesterday which ensures Basic Bananas is at the forefront of marketing worldwide.
When it comes to nifty marketing tips and tricks to get new clients stampeding to any business, Christo is the man. He loves creating powerful online strategies and scalable marketing systems. In his past life, Christo was a professional surfer travelling the world. He was also co-owner and managing director of Softboards Australia. Being a successful business owner himself, he has brought a variety of surf products to the market in Australia.
The two make a great duo and their uniqueness, honesty and authenticity is like a breath of fresh air in the business world. Known for pushing the boundaries and not playing by the rules of convention, they have a sharp-witted humour that can bring anyone to tears (usually of laughter).
Book Details:
Title: Bananas About Marketing – How to Attract a Whole Bunch of Happy Clients
Publisher: McPherson's Printing Group
ISBN: 978-0-9872625-0-9
RRP: $29.00
To order please contact Basic Bananas by calling 1300 691 883 or purchase directly online:
http://www.basicbananas.com/book