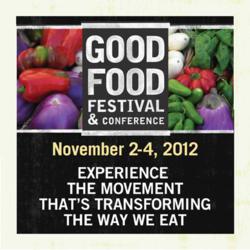 We have an exciting lineup of speakers, events and chefs and hope to raise awareness for the movement.
- Jim Slama, FamilyFarmed.org
Santa Monica, Calif. (PRWEB) October 18, 2012
The Good Food Festival & Conference (GFFC) returns to Los Angeles for the second year Nov. 2-4, 2012. Produced by FamilyFarmed.org in cooperation with the Santa Monica Farmers Markets, the conference focuses on regional and national issues that are integral to building local and sustainable food systems and educating people about the Good Food Movement.
The GFFC begins with an "Urban Barn Raising" with Farmer, Founder and CEO of Growing Power, Inc. and Author of "The Good Food Revolution," Will Allen, on Friday, November 2 at John Muir High School, continues with The Good Food Conference, a day of informative panel discussions at the Los Angeles County Museum of Art (LACMA) featuring speakers such as Will Allen (The Good Food Revolution), Laura Avery (Santa Monica Farmers Markets), Andrew Kimbrell (Center for Food Safety) and Evan Kleiman (Good Food/KCRW) on Saturday, November 3 and culminates on Sunday, November 4 with Localicious, an evening of food and wine tasting on the beach with 30 chefs and 30 farmers at the Annenberg Community Beach House. Programming for GFFC will focus on issues that matter to Californians, such as community building, safe, healthy and economically viable food jobs and the California GMO labeling measure, Proposition 37.
"We received such an overwhelming response from the farmers and community last year, FamilyFarmed.org is pleased to bring our efforts to Los Angeles again this year," said Jim Slama, president and founder of FamilyFarmed.org. "We have an exciting lineup of speakers, events and chefs and hope to raise awareness for the movement."
On Friday, November 2 from 10 a.m. to 5 p.m., MacArthur Genius and Will Allen will host an "Urban Barn Raising" at John Muir High School in Pasadena. Members of the community, high school students and Allen's team will construct a season-extending hoop house that will foster year-round education on food, agriculture and nutrition. The day's activities will include workshops, farm fresh cuisine and one-on-one conversations with Allen and other influencers in the industry.
On Saturday, November 3, from Noon - 6 p.m., LACMA will co-host a series of panel discussions on building organic and sustainable food systems. Topics include: Building Community with Good Food, Good Food=Good Jobs, Is GMO Labeling Coming to California?
Confirmed speakers include: Andrew Kimbrell (Center for Food Safety), Arran Stephens (CEO Nature's Path), Evan Kleiman (KCRW-FM/Good Food), Kelly Meyer (Teaching Garden), Laura Avery (Santa Monica Farmers Markets), Michael O'Gorman (Farmer-Veteran Coalition), Paula Daniels, Senior Advisor to the Mayor of Los Angeles specializing in Food and Water Policy and Will Allen (Growing Power, Inc.).
Beginning at 10:30 a.m. and throughout the afternoon on Saturday complimentary tours of works of art related to food and dining in LACMA's collection will be offered on a first-come, first-served basis (Trade and the Changing Palette of the Dutch and The European Table Transformed, Dining Out in 19th Century France and The Age of Elegance). Admission to LACMA will be free of charge to GFFC ticket holders on November 3.
Localicious will serve as the culmination of the Good Food Festival & Conference on Sun., Nov. 4, 2012 from 6-9 p.m. at the Annenberg Community Beach House in Santa Monica. Guests will savor the freshest and best of the season with signature dishes prepared by Los Angeles's leading culinary talents, paired with farmers from the Santa Monica Farmers Markets including: Coleman Organics, See Canyon Fruit Ranch, Fat Uncle Farms, Peacock Family Farms, Shiitake Happens, Weiser Family Farms, Harry's Berries, Carpenter Family Farms, Schaner Family Farms, Phillip Green, Gloria's, Flora Bella Farms, Windrose Farms, Rutiz Family Farms, Life's A Choke Farms, Pudwill Farm, McGrath Family Farms, Jimenez Family Farms, and Tutti Frutti Farms. Confirmed chefs include: Alex Moreno of Border Grill, Akasha Richmond of Akasha, Nyesha Arrington of Wilshire Restaurant, John-Carlos Kuramoto of Michael's Santa Monica, Laurent Elmerich of Church and State, Jeremy Strubel of Rustic Canyon, Christina Olufson of Lucques/AOC/Tavern, Tin Vuong of Abigaile Restaurant, Benny Boehm of AMMO, Ray Garcia of FIG, Sassan Rostamian of Sauce on Hampton, Roxana Jullapat of Cook's County, Brandon Boudet of Dominick's/Tom Bergins, Gianfranco Minuz of Locanda del Lago, Paul Shoemaker of Savory, Bradley Miller of Inn of the Seventh Ray, Matt Dickson of FEED, Vardan Abgaryan of Public Kitchen, Sal Marino of Il Grano, Matt Biancanello of Roosevelt/Library Bar, Rich Mead of SAGE, Rian Brandenburg of Tender Greens, Mark Cannon and Elliott Rubin of The Curious Palate, Stefano DeLorenzo of La Botte, Collin Crannell of The Lobster and Joe Miller of Joe's/Bar Pinxto.
The GFFC is produced by FamilyFarmed.org in cooperation with the Santa Monica Farmers Markets, support from the City of Santa Monica and the City of Pasadena and sponsored by Chipotle Mexican Grill, The California Endowment, LACMA, Whole Foods and Nature's Path. Proceeds benefit FamilyFarmed.org. For more information, visit http://goodfoodfestivals.com/LA. Tickets and additional information can be found at http://2012goodfoodla.eventbrite.com/.
About FamilyFarmed.org
FamilyFarmed.org's mission is to expand the production, marketing and distribution of locally grown and responsibly produced food in order to enhance the social, economic and environmental health of our communities. FamilyFarmed.org is nationally recognized for "growing the market" for local and sustainable food and works with many of the country's largest buyers of local and sustainably grown food. The Good Food Festival and Conference was created to link some of the best local farmers and family-owned producers of food and farm products with the public, trade buyers and leaders in the field to foster relationships that facilitate the growth of local food systems.
About Santa Monica Farmers Markets
The Santa Monica Farmers Markets are committed to promoting healthy eating and sustainable agriculture in California by providing fresh agricultural products direct from small farms to urban customers, thereby building community and preserving California farmland. It has since grown to be one of America's leading farmers market programs with four weekly markets. An estimated 900,000 shoppers visit the markets each year. For More Information, please visit http://www.smgov.net/portals/farmersmarket
###