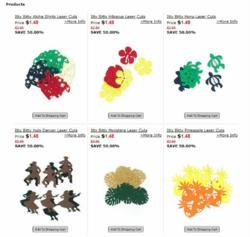 Customers will be pleased to know that IslandPaperie.com is giving away free goodies for products purchased from their online store
Maui, Hawaii (PRWEB) October 19, 2012
IslandPaperie.com is currently offering 50% off on all their Hawaiian and tropical scrapbooking Hulahlah range of products. The offer started in October and avid scrapbookers can look forward to purchasing a whole range of items from this Hawaiian paperie store.
Scrapbookers will be pleased to know that Island Paperie has quite a wide range of Hawaiian and tropical scrapbooking products under their Hulahlah category which they are currently offering at 50% discount to online shoppers. These consists of Asian laser cuts, greeting cards, Hawaiian laser cuts, local expressions, pocket pleasers and pre-made pages.
The Asian laser cuts and Hawaiian laser cuts are pre-assembled laser cuts which are excellent for scrapbooks, cards or special projects. And since they are themed accordingly, scrapbookers could use them for different occasions either for celebrations, weddings or birthday invites.
Since the holiday shopping season is fast approaching, the company's range of season greeting cards being on offer would be a big help to shoppers who are on a budget but who would still like to send special greeting cards to their loved ones.
Those who are starting on scrapbooking could take advantage of the pocket pleasers that are in the Hulahlah range. These are basically pre-assembled laser cut frames that are made for adding pictures or photos of family and friends. They could also be used to add to any scrapbook page and normally come in 3 different frame sizes. Some are themed according to the holiday season while others are for special occasions.
For those who enjoy the hobby but are hard-pressed for time, they could choose the pre-made page range which comes in 12 x 12 size. Just add in pictures, stickers or wordings and the entire pre-made page could be added to a scrapbook immediately. These are also ideal for first time scrapbookers.
Customers will be pleased to know that IslandPaperie.com is giving away free goodies for products purchased from their online store. Customers will get one free pineapple die cut per order plus one assorted free die cut for every online purchase over $10.
Customers who prefer to buy directly from their physical store in Kahului, Maui will receive one free pineapple die cut per order plus one free goodie for every $50 spent. Please note that in-store goodies may vary.
Island Paperie is currently using InstanteStore, an online ecommerce solutions provider.
To have a look at the range of Hulahlah unique scrapbooking products that are currently on 50% discount, please visit http://www.IslandPaperie.com