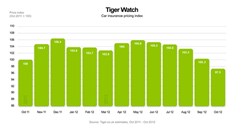 It's nice to be able to report a further drop in premiums this month for most drivers.
Ipswich, Suffok (PRWEB UK) 17 October 2012
Every month, Tiger.co.uk analyses hundreds of quotes to produce a car insurance price monitor that provides an accurate snapshot of trends in UK policy premium pricing. The study, Tiger Watch, has been produced since January 2010, and provides the most up to date insights into the car insurance market.
The figures for October 2012 are released this week and provide good news for Britain's motorists, showing an average drop of 3% in policy prices over the last month, yielding prices that are some 2.7% below those seen in October 2011 – taking prices to a two-year low.
The Tiger Watch data shows a significant drop in pricing over the last 6 months, with prices down over 8% since a 2012 high in May. Digging deeper within the data Tiger.co.uk reveals that male drivers are faring better than their female counterparts. Average policy prices for men are about 11.5% below those recorded in May, whilst women saw their prices drop on average by less than half this figure – just 4.6%.
Commenting on the October data, Tiger.co.uk's Commercial Director, Andrew Goulborn, said: "It's nice to be able to report a further drop in premiums this month for most drivers – motorists about to renew their policies should be seeing rates reduce to their lowest level in over two years. However within the Tiger Watch numbers we always see variances and this month is no exception. We are seeing year-on-year increases in pricing for young drivers car insurance, with our 20 year old male profile having an increases of just over 5%. The female driver cohort of the same age has also seen a 3.7% increase in rates compared to those of a year ago. Older drivers are benefitting most, with 11-12% annual drops in prices recorded for our 45 and 55 year old profiles of both genders. We would encourage anyone receiving renewal prices from their insurers to ensure they are getting the right policy at the right price by taking 5 minutes to compare car insurance quotes from up to 90+ brands on our independent insurance comparison site".
About http://www.tiger.co.uk
Tiger.co.uk is a trading name of Call Connection Ltd. Tiger.co.uk is a UK based, independent motor insurance comparison site, offering insurance quotes from over 150 motor insurance brands. Call Connection Ltd is authorised and regulated by the Financial Conduct Authority (FCA number 308374).