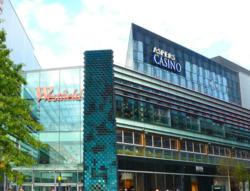 One of the biggest benefits of working with SAS is the simplified channels of communications. In the past, what was more apparent was the separation between our carrier and the old MSP.
London (PRWEB UK) 18 October 2012
The SAS Group, an international provider of managed network and professional services, today announced the completion of a project to upgrade the wide area network (WAN) of leading urban leisure and entertainment specialist, Aspers. The new infrastructure, which connects four UK sites, is supported by a bespoke managed services agreement with the SAS Group.
When Aspers won the license to develop a world-class entertainment complex at the gateway to the Olympic Park, the company had just 12 months to complete the 65,000 sq ft casino ahead of the opening ceremony for the 2012 Olympic Games.
Two important enablers for the operation of the new casino were the installation of a primary data centre, which would become the hub for all sites on the Aspers network estate, and the rollout of a new HD CCTV security system.
Recognising that neither of these projects could be fully supported by the company's existing wide area network, group IT manager Nick Snowden decided to contact BT for help scoping a new infrastructure.
"What we needed was a network with high bandwidth, low latency and class of service," said Nick. "What we had was a public Internet VPN-based WAN that provided no guaranteed throughput and could not support class of service."
In addition to wanting a more powerful network, Aspers was keen to consolidate the management of the project.
"In a complex piece of work, you just want one point of contact; we were opening a new casino so there was a lot going on," said Nick. "It's always easier to deal with a project in one call than to have to speak to several people. "
When it came to the ongoing support and maintenance of the new network, Aspers also had some very specific requirements for monitoring and reporting as well.
"It is important as you put more demand on the system that you can see the impact you're having on existing services," said Nick. "It enables you to plan ahead, increasing bandwidth or adding links. There were reports for our old system but in all honesty, they were not very good."
Confident that the SAS Group, a long-term BT partner, was best positioned to provide the level of customisation and personal involvement Aspers was seeking, BT recommended an introduction to the managed services specialist. Aspers had worked with a third party service provider previously, so Nick was unfazed by the prospect of working with the SAS Group and together they white boarded a solution.
"BT brought SAS in – that probably gave me sufficient confidence to work with them," said Nick. "But from each meeting it was quite apparent that SAS knew what it was doing."
"There were one or two changes to the final specification but the design at the beginning is pretty much what's in there now. That proved SAS's capability to architect a solution for our needs," said Nick.
The WAN upgrade project was spearheaded by the SAS Group, which took charge of provisioning, project management and installation of all BT circuits into the Olympic Park site. The core network installed is a Layer ll BT VPLS Etherflow solution, which offers each site a virtual pipe of 100mb of bandwidth. The network is segmented for different applications and services; one segment is allocated for the CCTV, and is configured for hub and spoke operation, while the other segment is allocated to general network data and configured for site to site operation.
Each site has a single Etherflow circuit installed; the Olympic Park site which now serves as the company's primary data centre has two circuits for additional resilience. In addition, a high bandwidth BT Net circuit was also installed at Olympic Park for Internet access. All circuits are terminated with Cisco routing and switching equipment.
Since completing the WAN project for Aspers, the SAS Group now provides 24/7 management of the new network, which includes NetFlow advanced monitoring and class of service (CoS) monitoring. Reporting is provided through the SAS Group's network management system (NMS).
Commenting on how valuable he finds the reporting information he receives from the SAS NMS, Nick said: "It's just visual. I don't spend hours pondering over it. The important fact is being able to see that circuits up and serviceable. If there's a problem of capacity, I'm notified ASAP. If bandwidth is maxed, again, they'll let me know."
"One of the biggest benefits of working with SAS is the simplified channels of communications," said Nick. "In the past, what was more apparent was the separation between our carrier and the old MSP. Wherever there was an issue, getting the two to talk seemed to require much more effort on our part than it should have. Since the installation with SAS and BT, that hasn't happened. For example, just recently we got an alert about a problem on the network; by the time we spoke to SAS, they were already in discussion with BT about it. In the past we wouldn't have had that."
"Working with a managed service provider can make sense for a lot of organisations, whether that's to reduce internal costs, consolidate supplier communications or improve carrier service levels," said Charles Davis CEO for the SAS Group. "What Aspers' previous experience shows is that not all MSPs are the same. At SAS we believe that to support and manage a WAN, you need to know how to design and build the infrastructure too."