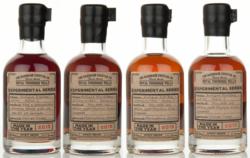 These cocktails are a new twist on classic recipes and offer a fascinating insight into drinks history.
Tunbridge Wells, Kent (PRWEB UK) 17 October 2012
Antique cocktails are becoming increasingly popular as mixologists explore the delights of spirits from years-gone-by. These cocktails are a new twist on classic recipes and offer a fascinating insight into drinks history.
The 'Experimental Series' Antique Cocktails are a selection of four classic drinks: the Negroni, the Manhattan, the Rob Roy and the Martinez – all made by using rare spirits bottled in the 1960s, 1970s and the 1980s. These antique spirits were often made using different production methods and sources of ingredients to their counterparts today, hence resulting in a different flavour profile.
Furthermore, due to the time spent in bottle, the spirits have oxidised slightly which mellows the spirit, gives it a deeper complexity and adds another tasty dimension to these delicious cocktails.
The Handmade Cocktail Company has made vintage ready-to-drink cocktails since its launch in 2011, and in February 2012 the 'Experimental Series' was launched to allow the consumer to influence future releases. Popular bottlings in the Series will then join the full range of products produced by the Handmade Cocktail Company.
Antique Negroni – 1970s – Batch 1 – 20cl/33.7%abv – £41.95
Nose: Bitter cranberry, macerated raspberry and a touch of leather hit the nose first before we are taken on a tour of the spice rack: cardamom, cloves and juniper, rounded off with grated lemon zest.
Palate: The gin arrives on the palate first before the bittersweet tag-team of sweet vermouth and Campari burst into the party bringing herbs, dried cranberry and nutmeg.
Finish: Refreshingly bitter and herbaceous with a sweet lick at the very end.
Overall: The classic Italian cocktail beautifully delivered with the added cachet of being antique. Superb stuff!
Antique Manhattan – 1970s/1980s – Batch 1 – 20cl/39.1%abv ̶ £49.95
Nose: At first the whiskey hits the nose hand in hand with the sweet vermouth before cherries and sage wander in with the vaguest hint of white pepper.
Palate: Cherries and oak notes fill the mouth followed by cinnamon and dried red fruits.
Finish: Coriander and oregano form a herbaceous finish but it is the bourbon vanilla that clings on for dear life until the very end.
Overall: This is a delicately balanced Manhattan that creates a product greater than the sum of its parts - plus it's an antique, what's more to like?
Antique Rob Roy – 1960s/1970s – Batch 1 – 20cl/38.55abv – £38.95
Nose: Maraschino cherries open up first followed by fresh Seville oranges, nectarines and essence of raspberry. Beneath this fruity exterior lies a malty floor harmonising with the sweet vermouth.
Palate: Sweet fruit, namely cherries and plums, roll over the palate counter-balanced by the bitters and whisky.
Finish: Bitter oranges and candied citrus peel finish this mouth-wateringly delicious cocktail.
Overall: The key word for this cocktail is balance. The sweet fresh fruit flavours are intricately complemented by the bitter component. Oh and the ingredients were sourced from the 60s and 70s, that's pretty cool isn't it?
Antique Martinez – 1970s – Batch 1 – 20cl/39%abv – £42.95
Nose: The nose is dominated by juniper and cherries but tempered with a little orange peel and macerated red fruits.
Palate: Red grapes, raisins, tangerine zest and baked apples with a smooth, silky mouth feel.
Finish: Mixed herbs, rosemary and coriander at first leading to black cherries and pepper as the cocktail slowly fades away.
Overall: A perfect cocktail for those who don't favour the drier martini or for those who fancy a change. Factor in the antique nature of its ingredients and you have one sublime drink.
The Antique Cocktails are now available from Master Of Malt.
###
About Master of Malt:

Established in 1985
Master of Malt is one of the UK's leading Online Whisky & Spirit Merchants, with a huge range of whiskies, rum, brandies, gins, cocktails and many other fine spirits.
UK Next Day Delivery from £6.95
Follow Master of Malt:
On Twitter: twitter.com/masterofmalt
On Facebook: facebook.com/masterofmalt
On their blog: masterofmalt.com/blog