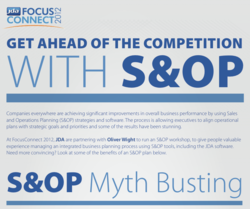 Some companies are still clinging on to outdated processes that focus on historic and short- to mid-term operational issues
(PRWEB UK) 18 October 2012
JDA Software: The Supply Chain Company® has launched a brand new infographic aiming to 'bust' traditional myths about supply chain management with a host of top tips for getting the most out of sales and operations planning (S&OP).
There are a range of misconceptions surrounding the topic of S&OP, and this lack of understanding is having a pronounced effect on businesses across the globe. The infographic reveals that S&OP puts executives in control, allowing them to define the information they need, in the format that they require, to ensure they can make smarter business decisions.
The infographic also shares statistics from supply chain businesses, and the marked improvement thereof, following the implementation of sales and operations planning solutions. These include:
80% increase in order booking efficiency
92% improvement in order promising accuracy within desired delivery week
10% reduction in late orders in the production line
"Some companies are still clinging on to outdated processes that focus on historic and short- to mid-term operational issues", said Razat Gaurav, SVP of EMEA for JDA Software. "This inefficient way of working is stopping companies from being competitive and, as such, they're losing opportunities to increase sales, services and profits. We want to bust a few of those myths and show that there is another way."
The infographic coincides with JDA's annual supply chain event Focus Connect, where over 400 supply chain professionals from the retail, manufacturing, wholesale distribution and logistics industries will gather in Barcelona on 5-7 November. JDA is partnering with Oliver Wight to run an S&OP workshop, give people valuable experience managing an integrated business planning process using S&OP tools, including the JDA software.
Spaces at Focus Connect are still available. To find more, visit the Focus Connect homepage or head straight to the registration page. You can also find out more about the S&OP workshop.