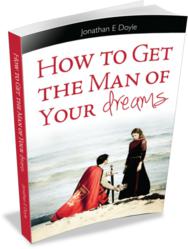 Women are at risk without new insights and skills.
(PRWEB) October 18, 2012
A new book by well known motivational and relationships speaker Jonathan Doyle is creating quite a stir online and around the world.
Titled How To Get The Man Of Your Dreams it explores major themes in the modern relationships game and suggests many young women are at a distinct disadvantage.
After spending seven years delivering live seminars to tens of thousands of women Doyle began to notice that poor relationship outcomes were impacting women from all walks of life and not just from those areas that are commonly seen as having higher rates of relational dysfunction such as lower socio-economic demographics.
The book suggests that major historical changes including the rapid growth of factors such as online pornography and divorce have been drivers of many of the outcomes.
He suggests that with a divorce rate of close to 50% in many advance societies and newer trends toward the avoidance of marriage altogether many young men experience very limited exposure to positive male mentoring and guidance. As a result they develop self-focused approaches to sexuality, intimacy and relationships.
Based on Doyle's extensive postgraduate background in both education and the field of marriage and family studies the book offers a controversial analysis of modern trends and suggests that there is much work to be done if young women are likely to experience the relationships they expect will take place as part of their life plan.
The book is supported by a series of online videos in which Doyle explores the key issues raised in each chapter.