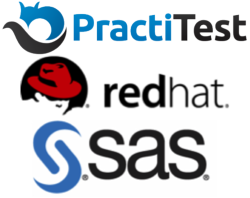 PractiTest gives us the ability to manage our testing in a structured way, and more importantly, demonstrate to our clients the quality assurance that they demand
Tel Aviv, Israel (PRWEB) October 18, 2012
PractiTest, a leading SaaS Testing and Quality Assurance (QA) vendor today announced the successful deployment of a best-in-class solution at business analytics leader, SAS. SAS relies on PractiTest, running on Red Hat Enterprise Linux, to manage critical portions of the QA process related to its solutions when testing configured or customized solutions deployed at client sites. With analytics being top of mind for CIOs, the ability to efficiently manage and attest to the quality of SAS solutions provides a significant competitive advantage.
"Before PractiTest, we managed our deployed or configured software testing with spreadsheets, an approach that did not scale with the increasingly complex needs of larger projects. PractiTest gives us the ability to manage our testing in a structured way, and more importantly, demonstrate to our clients the quality assurance that they demand," said James Ochiai-Brown, Senior Solutions Architect at SAS. "Moreover, we are pleased that PractiTest chose to deliver their solution on Red Hat, a partner whom we already know and trust. The team at PractiTest provides an exceptional service and the collaboration with Red Hat will only help," added Ochiai-Brown.
The relationship between Red Hat and PractiTest, originated with PractiTest's enrolment in Red Hat Innovate™. Launched as a pilot programme in Israel late last year, Red Hat Innovate allows participants to leverage the power, openness and collaborative nature of open source communities.
"It has only been a short period since we joined Red Hat Innovate, but we're already seeing value from the collaboration. We have better access to other participants and important portions of the developer community. There is also a degree of credibility that comes with working with a leader like Red Hat, which is helping us to become recognised among our industry peers," said Joel Montvelisky, Product & Solution Architect at PractiTest.
Previously maintaining its open source environment internally, PractiTest now benefits from the ability to leverage Red Hat Enterprise Linux for development, testing and production purposes. PractiTest can outsource the maintenance of its operating environment, thereby freeing up resources to drive the Innovation required by large enterprises such as SAS.
In close cooperation with Matrix, the leading IT integration and reseller in Israel, Red Hat launched Red Hat Innovate late last year. The initiative is currently restricted to Israeli-based software development start-ups with less than $1.5M USD in trailing four-quarter revenue.
"Matrix is delighted to be involved in this initiative with Red Hat, providing start-up companies in Israel with benefits specifically tailored to their local needs, including assistance with initial go-to-market activities," said Ari Rosenbaum, Start-Ups Segment Manager, Matrix. "Red Hat and Matrix are well positioned to support this new initiative by providing start-ups in Israel with local networking opportunities and access to the international suppliers represented by Matrix."
About PractiTest
PractiTest is a leading provider of QA and Test management Software as a Service (SaaS) solutions for small and medium size enterprises worldwide. PractiTest's objective is to deliver solutions that help organizations manage their testing and development projects more effectively and easily, while achieving better control and visibility of their end-to-end processes. PractiTest provides value to all types of organizations, especially to global teams working in different geographical locations.
Founded in 2008, PractiTest is a privately held company with offices in Israel. For more information visit http://www.practitest.com
ABOUT SAS
SAS is the leader in business analytics software and services, and the largest independent vendor in the business intelligence market. Through innovative solutions, SAS helps customers at more than 60,000 sites improve performance and deliver value by making better decisions faster. Since 1976 SAS has been giving customers around the world THE POWER TO KNOW.
About Red Hat, Inc.
Red Hat is the world's leading provider of open source software solutions, using a community-powered approach to reliable and high-performing cloud, Linux, middleware, storage and virtualization technologies. Red Hat also offers award-winning support, training, and consulting services. As the connective hub in a global network of enterprises, partners, and open source communities, Red Hat helps create relevant, innovative technologies that liberate resources for growth and prepare customers for the future of IT. Learn more at http://www.redhat.com.
Forward-Looking Statements
Certain statements contained in this press release may constitute "forward-looking statements" within the meaning of the Private Securities Litigation Reform Act of 1995. Forward-looking statements provide current expectations of future events based on certain assumptions and include any statement that does not directly relate to any historical or current fact. Actual results may differ materially from those indicated by such forward-looking statements as a result of various important factors, including: risks related to delays or reductions in information technology spending; the effects of industry consolidation; the ability of the Company to compete effectively; uncertainty and adverse results in litigation and related settlements; the integration of acquisitions and the ability to market successfully acquired technologies and products; the inability to adequately protect Company intellectual property and the potential for infringement or breach of license claims of or relating to third party intellectual property; the ability to deliver and stimulate demand for new products and technological innovations on a timely basis; risks related to data and information security vulnerabilities; ineffective management of, and control over, the Company's growth and international operations; fluctuations in exchange rates; and changes in and a dependence on key personnel, as well as other factors contained in our most recent Quarterly Report on Form 10-Q (copies of which may be accessed through the Securities and Exchange Commission's website at http://www.sec.gov), including those found therein under the captions "Risk Factors" and "Management's Discussion and Analysis of Financial Condition and Results of Operations". In addition to these factors, actual future performance, outcomes, and results may differ materially because of more general factors including (without limitation) general industry and market conditions and growth rates, economic and political conditions, governmental and public policy changes and the impact of natural disasters such as earthquakes and floods. The forward-looking statements included in this press release represent the Company's views as of the date of this press release and these views could change. However, while the Company may elect to update these forward-looking statements at some point in the future, the Company specifically disclaims any obligation to do so. These forward-looking statements should not be relied upon as representing the Company's views as of any date subsequent to the date of this press release.