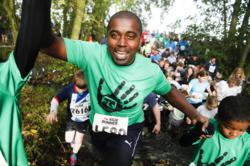 The muddiest and slipperiest race I've ever competed in
(PRWEB UK) 23 October 2012
Months of rain and relentless mud produced the best and biggest Mud Runner event to date with over 2,500 runners taking part in the 10km run on Sunday 21st October, proving there is one good effect of having the wettest summer in history. Mud Runner is one of the original and biggest mud runs in the UK, its growth mirrors the current insatiable appetite for this type of gruelling running event across obstacles, through swamps, rivers and mud pits.
It's not just the adults that enjoy a good swamp to run through, Mud Runner now stage the UK's largest junior mud run with over 780 kids from five to fifteen year olds competing across a filthy 5km run proving that dirt really is good. Mark Alleyne, MCC Head Coach and previously captain and coach for Gloucester Cricket Club ran the junior race with his three children and had a blast.
Paralympics Bronze medal cyclist winner James Brown, tested new skills as he also ran the course accompanied by his wife. They were raising awareness for Active Impact, a charity that inspires disabled youngsters to break down barriers and achieve all that they can. James, who is partially sighted said:
"I haven't had such fun in years. Great contrast to the intensity of the Paralympic build-up and games, here I could relax and enjoy the mud and the atmosphere. The only difficulty I had was with the marker posts but my wife capably guided me around these and I got round without ending up flat on my face in the mud! I'll definitely do it again next year. I hadn't run for a very long time but this experience made me realise I can still do it which is great news since I'm thinking about having a go at the triathlon when it makes its Paralympic debut in Rio, 2016!"
Mud Runner challenged even the elite adventure runners this year with some of the toughest natural obstacles and conditions of any race. These are the same tracks that Land Rover use as the ultimate proving ground for their vehicles with a mix of steep hills, water filled pits, muddy banks and ridiculously thick mud! It attracts a broad range of competitors from the runners looking to be crowned a Mud Master, to those who simply want to test their determination and complete a fun run as they run, slip and slide together to raise money for their favoured charities. Winner Garry Hughes, a strong Triathlete, claimed it was the muddiest and slipperiest race he had ever done!
For the thousands of Mud Runners yesterday the wettest summer on record produced tough but amazing muddy conditions for this trail running race. With runners aged between 5 and 70 it was a perfect excuse and conditions to really get down and dirty.
Details of the results and the next race can be found on http://www.mudrunner.co.uk