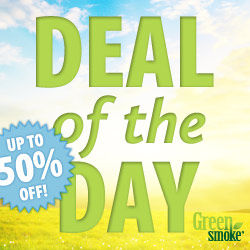 "We're going to be sprinkling Deal of the Day promotions throughout the month in addition to our regular promotions" - Ken Berg
Miami, FL (PRWEB) October 17, 2012
Green Smoke® the leading provider of electronic cigarettes is proud to announce their first ever Deal of the Day. Electronic cigarette customers can get Green Smoke®'s Classic kit at a whopping 50% off from now until October 18, 12am PST/3am EST.
"We're extremely excited to be launching Deal of the Day," says Ken Berg, Green Smoke's Program Marketing Manager. "We're going to be sprinkling Deal of the Day promotions throughout the month now in addition to our regular promotions. We thought there was no better way to launch Deal of the Day then by offering our famous Classic Kit."
Today's Deal is Green Smoke's Classic Kit, which includes everything smokers need to start smoking Green Smoke® electronic cigarettes. The kit includes: 2 electronic cigarette batteries, 1 pack of 5 FlavorMax™ Cartomizer, and a USB charger and wall adapter. The items in the kit are valued at $113.96, but for today's Deal of the Day they can be had for only $59.99, nearly 50% off its valued price!
To order the kit, simply go to http://www.greensmoke.com/dealoftheday, and signup or login to take advantage of this great savings. But hurry, because this deal ends October 18th at 12am PST/3am EST.
About Green Smoke
Green Smoke's commitment to innovation and customer care set them apart as the leading provider of electronic cigarettes. The company was founded to give smokers the smoking experience they expect and deserve from their cigarette, while enabling them to enjoy the freedom to smoke their cigarette where traditional cigarettes are banned. Because Green Smoke® electronic cigarettes produce no cigarette smells, they're not subject to most smoking bans. Their top-rated FlavorMax™ cartridges give smokers one of the richest, most enjoyable smoking experiences available, and in 2012 their customer care team was awarded the StellaService award of 'Excellent' for their outstanding service and commitment to customer satisfaction.
This international company is based in Miami, FL.