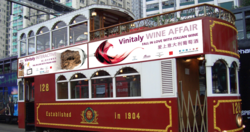 (PRWEB) October 17, 2012
Vinitaly International returns to Hong Kong from the 8th to 10th of November at the Hong Kong International Wine & Spirits Fair as the Vinitaly Pavilion will welcome wine aficionados in Hall 3G. Vinitaly is no stranger to HKIWSF, partner country coordinator last year, and this promises to be a yet another engaging, fun-filled and educational program with Master Wine Classes, Cooking demonstrations, B2B Seminars, and Wine&Food Pairing Sessions. The novelty of Vinitaly Interactive Wine Tasting with Ipads will also bring a new exciting element to the Tour.
The introduction of Vinitaly Interactive Ipad App will enable attendees to easily record their tasting preferences in an intuitive way in two languages: in Chinese or in English. The technology will enable each attendee to find their personalized tasting note online at http://www.vinitalytour.com shortly after the event, making it easy to recall and learn about the Italian Wines that were tasted.
"After having experimented several versions of Vinitaly Interactive with focus groups, we have fine-tuned the interface with simple three-step touch actions to score 1) taste, 2) scent and 3) overall. We kept it simple as possible to facilitate speed and user-friendly for this launch." Stevie Kim, General Coordinator of Vinitaly International, remarks looking forward to the first series of feedback from HKIWSF attendees.
Two exciting consumer events will be scheduled the days preceding Vinitaly at the fairgrounds.
1. During Hong Kong Wine and Dine Festival on the 3rd and the 4th of November, where an estimated number of more than 150,000 people will have the chance to experience Vinitaly's "Red, White and Sparkling" Wine-Bars at the Italian Wine and Food Area. Showcased wineries include: Sartori, Antinori, Barone Ricasoli, Batasiolo, Allegrini Estates. Italian Cuisine is incredibly popular and a nice way to introduce the taste of many Italian food and wine specialties.
2. 50 selected wine aficionados will be able to enjoy a Vintage Tram ride with exclusively selected Italian wines through the heart of Hong Kong on the evening of 7th November. For the first time Vinitaly Wine Affair is a wine tasting on the move and a prelude to the International Wine and Spirits Fair. The evening tram ride will last for 3 ½ hours and will feature a ride through Hong Kong's most iconic spots: from Whitty Street Station, where the journey begins, to Shau Kei Wan, the Hong Kong Convention and Exhibition Center, Happy Valley, and back to Whitty Street Station. Attendees will have the unique chance to enjoy the magic of Hong Kong City by night and taste selected fine wines exclusively featured on the Vintage Tram of Vinitaly Wine Affair.
For more information please visit http://www.vinitalytour.com and follow Vinitaly Tour on Twitter @VinitalyTour @MyOperaWine and Facebook.
About Veronafiere
Veronafiere is the leading organizer of trade shows in Italy including Vinitaly, the largest wine event in the world (http://www.vinitaly.com). In 2012, over 4200 exhibitors showcased their wines to 140,000+ visitors (35% from outside of Italy representing over 120 countries). Since 1998, Vinitaly International has engaged in its role as the ambassador of Italian Wine abroad (http://www.vinitalytour.com). The latest development saw Vinitaly aiming at increasing Italian wine sales in China as it reinforced its partnership with the Hong Kong Trade Development Council (HKTDC), which organizes Asia's leading wine fair Hong Kong International Wine & Spirits Fair.
###