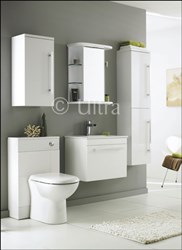 ..they stock both traditional and contemporary styles suitable for all styles.
(PRWEB UK) 21 October 2012
Choosing the appropriate bathroom furniture can often become a difficult task when having to face the vast amount of products within the market. This issue has been considered by the team at Bella Bathrooms as they have now introduced a useful 'Bathroom Furniture Collections' page available to access anytime within their online shop. The feature lists high quality items within specific luxurious collections to help achieve the perfect look for your suite.
Ensuring that the correct furniture is selected to match current aspects already in your suite, it is vital to co-ordinate furniture to help maintain a classy appearance. Adding the finishing touches to a suite can be regarded as one of the most important stages during any renovation. The ability to top off your room can decide the overall finished effect and appearance. As they understand the variety of styles and designs people feature in their own individual suite, the company have stocked an extensive range of collection featuring a wide range of designs to help home-owners find the exact look and feel.
Within each furniture collection, consumers can find all the important elements that make up any high quality suite including vanity units, mirrors and other important aspects that will all pay contribution to the overall look. As everyone has their own individual tastes, they stock both traditional and contemporary styles suitable for all styles.
After a bath or shower has been selected, the next process is to selected suitable basins and other key elements. Once this has been decided, the opportunity to select bathroom furniture is the next key area to consider. The current design of any bathroom should influence home owners decisions when buying furniture and therefore the importance in selecting the appropriate look is necessary. Bella Bathrooms have a customer service option for consumers who are struggling to deal with designs and styles to compliment their style. The professionals will be able to provide an in-depth analysis of what they believe will be most appropriate and effective.
About Bella Bathrooms:
Bella Bathrooms is one of the finest UK online bathroom retailers based in the North-East of England and offer continuous great deals of bathroom refurbishments, shower, towel rail and radiator updates, stylish bathroom furniture and various other key elements at prices that are guaranteed to be unsurpassable. The latest updates continuously made have further improved the overall quality and they have set a high standard for things to come in the future.
Bella Bathrooms
Tel: 0844 8117 017
Available to contact from 9am – 5pm