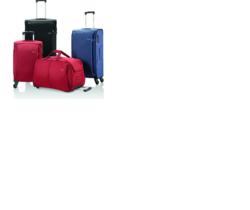 there would not be any need to sacrifice volume with this design of suitcases
Kent (PRWEB UK) 18 October 2012
Consumers would have been aware of the previous S-Cape range, but with the S-Cape 2 the range is improved as Samsonite believes that as their research progresses, the room for improvement will be revealed. The S-Cape 2 is a value for money collection with a fresh and vibrant look.
The range is designed with a sleek soft looking external body in sturdy fabric.It comes equipped with "space booster wheels" (on the uprights and cabin sizes patent pending). This idea integrates the upright wheels and pushes the back panel 2/3cm to allow the suitcase to respect the 20cm check-in guidelines. The design of the bags provides a flexible front panel that can allow storage for maybe souvenirs and gifts etc. The great benefit is that the bags naturally expands due to this soft and generous front panel giving that extra space that always comes in handy for travelling. The S-Cape 2 comes in Uprights, Spinners and Duffles on wheels in three great colours of Blue, Black and Red to choose from. The soft comfortable handles make it so easy and comfortable to be used to any destination.
The S-Cape 2 is suited to a broad spectrum of consumers from unisex, leisure travellers and even younger and there would not be any need to sacrifice volume with this design of suitcases. This range comes with a great limited five year warranty.
Luggage Superstore established site is in West Kingsdown, Kent. Their aim is providing competitive prices of the highest quality luggage and top calibre Customer Service for online luggage shopping.
Trina Chee-a-kwai
Luggage Superstore
01474 854666
Email information