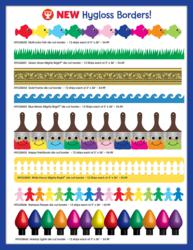 We are devoted to updating retailers regarding our constantly expanding product line...
Wallington, NJ (PRWEB) October 18, 2012
Hygloss Products, the leading source for teacher supplies and classroom essentials, has just introduced its latest teaching tool for young children: Borders that Teach. A longtime partner of storeowners and resellers across the nation, Hygloss Products is offering retailers a sneak peak at their newest products and a front-of-the-line opportunity to stock their shelves with this latest creative and decorative teaching aid.
"Borders that Teach" consists of three colorful borders for the classroom bulletin board, wall, or window: a Clock Border, a Fruits and Vegetables Border, and a Chocolate Chip Cookie Border. The Clock Border, featuring multiple clock-faces depicting different hours of the day, is a crafty tool for reinforcing basic time-telling skills in young children. The Fruits and Vegetables Border, depicting 26 varieties of real-life looking fruits and vegetables, assists teachers in conveying the importance of nutrition and in helping children learn to differentiate between food groups and develop an appetite for healthy eating. Thirdly, the new Chocolate Chip Cookie Border is a fun and welcome addition to any classroom of young learners.
Each of the new die-cut borders come in packages of twelve 3" x 36" strips, totaling 36 feet of border and selling at a retail price of $4.99. Dedicated to supplying retailers with the finest and fullest selection of craft and teaching supplies at the best prices, all qualified Hygloss Products resellers are eligible for exclusive benefits, including advanced notification of new products and promotions, bulk order discounts, net 30-day billing, easy online ordering, and a convenient re-order function for repeat loyal customers. Additional border designs can be ordered via the Hygloss Products website, including Bunny, Happy Sun, Happy Paintbrush, Counting Fish, and Flower Pot die cut borders.
"Teachers and retailers alike recognize the unlimited potential of Hygloss craft and educational supplies to help young minds be inspired to learn," says Hygloss Products President Moshe Neurath. "Teachers spend hundreds to thousands of dollars of their own pocket money for school supplies and instructional materials, and we are devoted to updating retailers regarding our constantly expanding product line to make sure their shelves are stocked with the quality products teachers are raving about."
About Hygloss Products:
Since 1950, Hygloss Products has offered innovative arts and crafts supplies to ignite creativity in children and adults. Teachers, parents and hobbyists alike enjoy the superior quality of Hygloss craft supplies, specialty paper and classroom essentials. Children's minds are ever expanding, and that's why the Hygloss product line is constantly being updated. All Hygloss Products come with a money back satisfaction guarantee because we're not happy until you are. Give yourself a fabulous crafting experience with unique and exclusive supplies from Hygloss Products.
Hygloss Products
800-444-9456