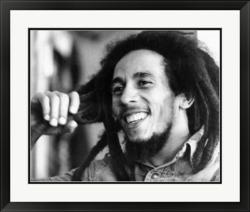 Delray Beach, FL (PRWEB) October 17, 2012
There are five common mistakes made when choosing matting for a framed art print. PosterNation.com, a leading online retailer of framed posters, provides solutions to these coming matting mistakes.
1. Choosing a mat that is too dark.
Choose a mat that is lighter than the art print and the frame. Use white or light mats for art prints with light colors and little or no black.
2. Matching the mat with the dominant color.
Rather than choosing a mat that matches the dominant color in the art print, select a complementary color. For example, if the dominant color of the art print is red, choose a green mat. White mats coordinate best with art prints with a lot of mid-tone colors or complex colors palettes.
3. Matting a black and white art print with one mat.
Art prints with extreme light to dark contrasts, such as a black and white Bob Marley poster, will look best with two mats. For art prints that are mostly black, an inner white mat is appropriate with an outer black mat. For art prints that are mostly white, choose an inner back mat and an outer white mat.
4. Choosing the wrong-sized mat.
Choose mats up to double the size of the frame. For example, a 4-inch mat will work with a 2-inch frame. This rule only applies to the top mat.
5. Matting an art print with two mats that are the same size.
The inner mat should always be smaller than the outer mat.
About PosterNation.com
PosterNation.com offers thousands of high-quality framed art prints and posters featuring themes that include: sports, movies, music, pets, animals, travel, motivational topics, celebrities and more. The frame shop allows customers to customize their purchase by selecting the cropping, matting, framing and glazing for a framed art print or poster. Please visit http://www.PosterNation.com for more information.