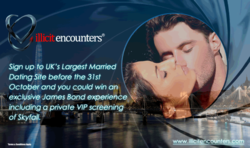 (PRWEB UK) 17 October 2012
Secret messages, covert meetings, staying in 5* hotels and a love of fast cars, these are things that you may usually associate with James Bond. However IllicitEncounters.com believes it also describes a lot of the site's members.
Research conducted by IllicitEncounters.com in the past has discovered key similarities between the fictional M16 agent and members of the site, for example; over 60% have membership to a high-end casino, 45% are keen golfers and 4% even own an Aston Martin. The most popular car choice for members was BMW which even Bond himself had a short love affair with in the 90's.
To coincide with the release of the new Bond film Skyfall, IllicitEncounters.com is offering two lucky winners a once in a life time experience. You could win an exclusive 007 themed blind-date provided by IllicitEncounters.com.
The evening will begin with drinks and canapés at a private reception next to the Thames. The winners will then embark on a high speed boat chase up the river, passing under the shadow of MI6 before getting dropped off at the exclusive London Sky Bar. This is followed by a delicious 3-course meal then they can head to the black jack tables to try their luck and, in true Bond style enjoy a vodka martini or cocktail of their choice, before settling in for a private VIP screening of the critically acclaimed 23rd Bond Film – Skyfall.
For a chance to win this unique prize, just visit http://www.illicitencounters.com and create a profile between now and the 31st of October 2012 and you will automatically be entered into a prize draw.
The site has also done a survey of its members to find out which actor who has played 007 and which Bond girl they would most like to have an Illicit Encounter with?
Daniel Craig was the clear winner cementing his title as the "hottest Bond". Controversially, Piers Brosnan came second, pushing the original Bond star Sean Connery into third place. The men voted Halle Berry as the number one Bond girl with Eva Green in second place, Gemma Arterton rounded off the top three. Shockingly the male members of the site seem to shun the Bond girls of the 60's 70's, 80's and 90's, putting the 21st century girls at the top.
IllicitEncounters.com is also offering a £35 discount for first time 4 week membership upgrades visit http://www.IllicitEncounters.com/007 and enter the code SKYFALL
*Terms & Conditions apply.
For more information contact:
Mike Taylor
PressPr(at)IllicitEncounters(dot)co(dot)uk
Notes to editors
Illicit Encounters® is UK's largest online married dating site with over 700,000 members.
SKYFALL © 2012 Danjaq, United Artists, CPII. 007 and related James Bond trademarks, TM Danjaq.
Competition Terms & Conditions
Please read these competition rules carefully. If you enter one of our competitions, we will assume that you have read these rules and that you agree to them.
1.To enter a competition you must be: (a) UK resident; and (b) 24 years old or over at the time of entry. 2. To qualify, a fully completed and approved profile must be created on the site IllicitEncounters.com .3. Competitions are not open to employees (or members of their immediate families) of IllicitEncounters.com or any subsidiary of IllicitEncounters.com. 4. No purchase necessary. 5. Only one entry per person. 6. No responsibility can be accepted for entries which are not received for any reason. 7. The closing date is the 31st of October and IllicitEncounters.com reserves the right to amend the competition end date at any time. 8. If you win a competition, we will notify you by e-mail. IlllicitEncounters.com's decision will be final, and no correspondence will be entered into. 9. The prize will not be transferable to another person. 10. No part of a prize is exchangeable for cash or any other prize. 11. If an advertised prize is not available, we reserve the right to offer an alternative prize of equal or greater value. 12. Incorrectly completed entries will be disqualified. 13. IllicitEncounters.com reserves the right to amend these rules at any time.
The UK's Leading extra-marital affairs website IllicitEncounters.com
IllicitEncounters.com is the UK's largest and longest running dating site for married people.
Established in 2003, we have been providing a meeting place for like-minded married and attached people for nearly 10 years. Our members have one thing in common - they are all looking for a little romance outside their current relationship. Whether that's the occasional bit of flirtatious chat, a regular coffee date, or a full-blown affair, that's up to them.