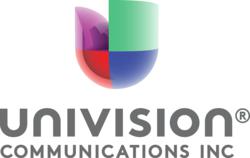 New York, NY (PRWEB) October 17, 2012
Univision Communications Inc., the leading media company serving Hispanic America, today unveiled a new brand identity, symbolized by the introduction of a new logo that signifies its growth and transformation, and celebrates the culture of innovation built over the company's 50-year history.
"The launch of our new brand logo kicks-off a new era at Univision that speaks to who we are as a company and that we are a direct reflection of the Hispanic community we serve – multidimensional, dynamic, modern and bold," said Randy Falco, president and CEO, Univision Communications, Inc. "We are proud to be ahead of the curve in a rapidly evolving industry, and our new brand identity will now illustrate how far Univision has come in its 50-year history. We've evolved from a single Spanish-language network to a multimedia portfolio, connecting with multiple generations of Hispanic Americans, while continuing to embody the passion, courage, ingenuity and tenacity that are the fundamental values of Hispanic culture."
Falco continued, "Univision has tremendous brand equity – on par with Apple, Coca-Cola and Kleenex – that far outpaces that of any other media company. Our unparalleled connection and leadership with our audience compels us to evolve with them. It is our duty and our ambition to leverage this incredible brand equity to celebrate our culture and connect America to the 52 million Hispanics in the United States. Through our steadfast commitment to informing, entertaining and empowering the Hispanic community, we are and always will be the 'Hispanic Heartbeat of America.' Our new identity is a symbol of this promise and just one of many exciting new developments to come."
The new logo, evocative of a human heart and three-dimensional in appearance, is a vibrant new take on Univision's prior logo, which represented the company for nearly 50 years since the company began as one television station in San Antonio, Texas in 1962.
"The new 'heart' logo joins the quadrants that were previously separated, representing unity, collaboration and the merging of cultures in the U.S., not to mention Univision's integration across its platforms," said Ruth Gaviria, senior vice president of Corporate Marketing, Univision Communications, Inc. "It is also three dimensional, representing the magnitude of the Univision brand and the U.S. Latino community, as well as the 360-degree approach we embrace as a company. The vibrant color palette and use of light in the design reflect the vivacity of the community we represent and its contributions to the U.S. landscape."
The launch of the updated logo and new brand identity was developed in collaboration with Wolff Olins, a global brand consultancy known for helping organizations grow through brand-driven creativity.
"Univision selected Wolff Olins as the brand partner for the launch of their new identity," said Jordan Crane, creative director, Wolff Olins. "As Univision's brand partner, our work included the development of the brand story, definition of the brand expression and the resulting logo that delivers on the organization's business growth goals and reflects its transformation into a thriving multimedia company. Wolff Olins is thrilled to have played a part in helping Univision further strengthen its ambition and unshakable commitment to the Hispanic American population and culture."
To download the new Univision logo and other visuals, please visit ftp.univision.net
Username: press; Password: univision
To view a video on Univision's new brand identity, click here.
CONTACT:
Marielena Santana
212-455-5233
msantana(at)univision(dot)net
About Univision Communications Inc.
Univision Communications Inc. (UCI) is the leading media company serving Hispanic America. Its assets include Univision Network, one of the top five networks in the U.S. regardless of language and the most-watched Spanish-language broadcast television network in the country reaching 96% of U.S. Hispanic households; TeleFutura Network, a general-interest Spanish-language broadcast television network reaching 88% of U.S. Hispanic households; Univision Cable Networks, including Galavisión, the country's leading Spanish-language cable network, as well as Univision tlnovelas, a new 24-hour cable network dedicated to novelas, Univision Deportes Network, a new 24-hour cable network dedicated to sports, ForoTV, a new 24-hour Spanish-language cable network dedicated to news, and an additional suite of six cable offerings - De Película, De Película Clásico, Bandamax, Ritmoson, Telehit and Clásico TV; Univision Studios, which produces and co-produces reality shows, dramatic series and other programming formats for the Company's platforms; Univision Television Group, which owns and/or operates 62 television stations in major U.S. Hispanic markets and Puerto Rico; Univision Radio, the leading Hispanic radio group which owns and/or operates 69 radio stations in 16 of the top 25 U.S. Hispanic markets and Puerto Rico; Univision Interactive Media, a network of national and local online and mobile sites including Univision.com, which continues to be the #1 most-visited Spanish-language website among U.S. online Hispanics, Univision Móvil, a longstanding industry-leader with unique, relevant mobile products and services, and Univision Partner Group, a specialized advertising and publisher network. Headquartered in New York City, UCI has television network operations in Miami and television and radio stations and sales offices in major cities throughout the United States. For more information, please visit Univision.net.
###