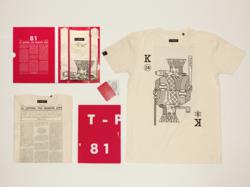 T-post isn't like any other magazine you've ever seen. Instead of printing on paper they print their stories on a T-shirt.
(PRWEB) October 23, 2012
Staying true to the magazine format T-post releases a new issue/T-shirt every month, with a fresh interesting article printed on the inside and the artwork it has inspired printed on the front. The result is the world's first wearable magazine.
In their latest issue T-post brings attention to Al Capone and his forgotten Cop brother and discusses peoples undying fascination for ruthless killers: http://www.tpostmag.com/t-shirt-issues/item/root/al-capone-the-mobster-king.
What began in Umea, Sweden in 2004 as a fun media experiment amongst friends and just five shirts has in 8 years become a buzz-worthy business that currently spans over more than 50 countries.
With over 80 issues under T-post's belt, upcoming collaborations with jeffstaple, Mishka and Tony Arcabascio (founder of Alife) together with hand picked retail stores like Colette, Paris and Reed Space, NYC, much of T-post's success can be attributed to their simple mission: Spreading the news one T-shirt at a time.
Celebrating their success they now give the opportunity to try T-post for free for one month – no strings attached. More information on: http://www.tpostmag.com/subscribe-to-t-post
For high resolution pictures:
http://www.tpostmag.com/press
Contact: Peter Lundgren
peter(at)tpostmag(dot)com
+4670 - 227 48 02
Journalists receiving this press release may request a free issue by emailing: peter(at)tpostmag(dot)com