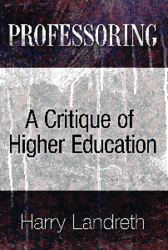 (The book) details Harry Landreth's educational ascent and his disappointment when the system fails students.
Danville, KY (PRWEB) October 18, 2012
An economics major discovers he loves to teach when he decides to go back to school for a Ph.D. As this new book reveals, however, politics derails this professor who works closely with students outside the classroom. Even more disheartening, he writes, is the negative effects civil rights, anti-war protests and women's liberation had on higher education – all causes he believed in.
"Professoring: A Critique of Higher Education" details Harry Landreth's educational ascent and his disappointment when the system fails students. As a young professor in the late 1950s and early 1960s at Miami University in Ohio, Landreth welcomed movements like the American Civil Liberties Union and Democratic Party that worked to create a fairer society that rewarded opportunities based on merit rather than race or gender. It breaks his heart to realize that methods aimed at correcting injustices instead slowly demolish the education system, what Landreth calls "the academy."
Conflicts between faculty and administrators because of social turmoil politicize intellectual activity at Miami and other academic institutions around the country. In addition, Landreth cites courses and departments that give special standing to minority groups and removing merit as a criteria for admission as just two examples of social justice working against education. The retired professor warns of the danger of introducing politics into education.
"Stifling dissent and respectful disagreement slows the growth of knowledge," he writes in the book's preface, "and using ideology rather than science as the basis for discussion of differences is fundamentally destructive of our intellectual heritage and hope for future progress."
Author Harry Landreth has published economic writing, including articles in professional journals, textbooks, encyclopedia entries, books and opinion pieces. His textbook, "History of Economic Thought," has been translated into several languages. Landreth is Boles Professor Emeritus of economics at Centre College in Danville.
For additional information, please visit http://www.HarryLandreth.com.
Professoring: A Critique of Higher Education
Harry Landreth
Dog Ear Publishing
ISBN: 978-1-4575-1305-3, 200 pages, $13.00 US
Available at Ingram, Amazon.com, Barnes & Noble and fine bookstores everywhere.
About Dog Ear Publishing, LLC
Dog Ear Publishing offers completely customized self-publishing services for independent authors. We provide cost-effective, fast, and highly profitable services to publish and distribute independently published books. Our book publishing and distribution services reach worldwide. Dog Ear authors retain all rights and complete creative control throughout the entire self-publishing process. Self-publishing services are available globally at http://www.dogearpublishing.net and from our offices in Indianapolis.
Dog Ear Publishing – self-publishing that actually makes sense.