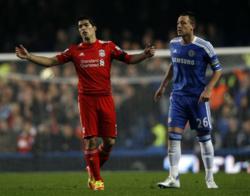 Nearly 2,000 fans voted Liverpool forward Luis Suarez as their most hated player in the Premier League.
(PRWEB UK) 19 October 2012
Liverpool striker Luis Suarez has been voted as the most disliked player in the Premier League, getting more votes than controversial Chelsea FC captain John Terry in one of a number of polls run by FootballFanCast.com.
In an attempt to put together a comprehensive profile of the modern footballer, leading football publisher FootballFanCast.com has run five polls to find out what turns Premier League fans on and off in regards to the modern game.
More than 12,000 football fans have aired their views about the traits they think make footballers likeable or unlikeable, in addition to who they see as the most likeable, most disliked and the player with the biggest ego in England's top flight.
Nearly 2,000 fans voted Liverpool forward Luis Suarez as their least favourite player in the Premier League, earning him more than 400 votes than John Terry and 42% of the overall vote.
While Suarez's tendency to dive makes him an unpopular player, cumulatively less than 100 people see cheating or loose morals as attributes that make the modern day footballer unlikeable. Fans are much more concerned with the lack of loyalty and amount of money players earn today, which were tied with 36% of the vote.
The biggest ego award was a one-horse race, as Manchester City striker Mario Balotelli stormed to the top with 38% of the vote, beating Chelsea's Eden Hazard and QPR's Adel Taarabt into joint second place.
In terms of the most likeable player in the Premier League, that accolade goes to Arsenal's Mikel Arteta, as 27% of poll respondents selected the Spanish midfielder.
Arteta displays the three attributes that supporters think make players likeable – talent, loyalty (having stayed with Everton for six years) and passion, which got 40%, 32% and 23% of the vote respectively, showing that Premier League fans value talent more highly than loyalty.
Click here to see the results in full
About the company:
Founded in 2007 by friends Niall Coen and Sarah Groarke, FootballFanCast.com is a leading football website in the UK providing real opinions from real fans. FootballFanCast.com delivers the latest football news and blogs, reaching 1 million unique fans and achieving 6 million page views a month.
Snack Media specialise in the creation of high quality new media content, including a network of sports websites, written web content for our partners, web development, online strategy, design and sales. With over 40 years combined digital experience in marketing, sales and online; Snack Media's solutions and services will meet the needs of any growing web business.