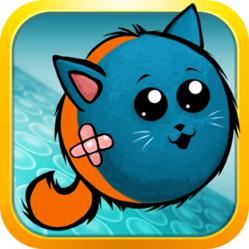 "The gameplay won't baffle you, but it will challenge you; and it will do it in a wonderfully quirky, kitty-filled way." Forge Media Games Review
Leamington Spa, Warwickshire (PRWEB) October 23, 2012
Pussy Flip is the purrfect strategic board game for the iPhone, it's a great tactical, competitive, multiplayer game which is easy to learn, but difficult to master. Use cunning to sandwich your opponent's cats, flip them and dominate the 64 space board. The player with the most cats at the end of the game wins!
"The gameplay won't baffle you, but it will challenge you; and it will do it in a wonderfully quirky, kitty-filled way." Forge Media Games Review
Play against Facebook friends or email contacts and chat to them using the in-game messaging feature. Compare scores on the world rankings and compete with the best players to become the world's number one Pussy Flipper! 
Best of all, Pussy Flip has more cat-based puns than most other iPhone games AND a funky jazz soundtrack! Freak out friends and passers-by with the realistic cat sounds - visitors think we have a kitten hiding in the office!
Pussy Flip is brilliant, hard to put down, addictive fun. It's perfect on-the-go gaming. Take your turn on the train, at work, in bed, wherever you are when a notification arrives. Just not whilst driving, you might run over one of our furry friends!
"I'm going to have to up my game fast! Since going global I've been knocked off the top spot on the leader board" David Darling Kwalee CEO & Codemasters Co-Founder
 
Head on over to pussyflip.com for more information and to download this addictive turn based game for free! 
Thanks for your support!