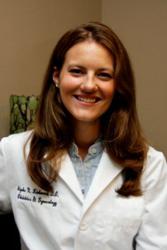 Traditional laparoscopic surgery is not something that can be taught over a weekend course, it has be done over and over again and skills are constantly being honed for the surgeon
Fredericksburg, VA (PRWEB) October 18, 2012
Women's Health and Surgery Center of Stafford and Fredericksburg Virginia is pleased to announce that one of their very own physicians, Dr. Alysha Kirkwood will be a keynote speaker at the Spirit of Women event to be held on October 17, 2012 in Fredericksburg, VA
The Spirit of Women event has been a staple event in the Fredericksburg region for the past 4 years and this is the third year in a row that one of the physicians from Women's Health and Surgery Center has been invited to be one of the keynote speakers at this event. The event turns out more than 300 area women to hear from experts in various healthcare specialties speaking on women's health related topics.
Dr. Kirkwood will be speaking about minimally invasive surgery and highlighting the benefits this type of surgery has for women needing surgery. "Minimally invasive surgery has been commonplace vernacular for well informed patients seeking highly specialized surgery and who have had to have to commute to Washington DC or Richmond to get this done", said Dr. Kurian Thott Minimally Invasive Surgeon at Women's Health and Surgery Center. "We are proud of the fact that we brought minimally invasive surgery to the region and are the go to center for minimally invasive surgery." Dr. Thott also keynoted the first Spirit of Women event in Fredericksburg.
Besides speaking about the benefits laparoscopic surgery to the women at this event, Dr. Kirkwood will also highlight that stark differences that exist between Robotic surgery and traditional laparoscopic surgery; while both achieve minimally invasive results, robotic surgery according to studies have been associated with longer surgical times and higher costs per case than traditional laparoscopic surgery. "Traditional laparoscopic surgery is not something that can be taught over a weekend course, it has be done over and over again and skills are constantly being honed for the surgeon", added Dr. Kirkwood. "Patients need to know how their surgeon was trained to do these complex procedures".
Her presentation will also include checklist for patients to ask their doctors about before moving forward with minimally invasive surgery. Questions to ask doctors include, how often do they perform minimally invasive surgery, what's their conversion rate from minimally invasive to open procedures, and what's their complication rate. Surgeons who perform minimally invasive surgery routinely will have these answers for their patients.
The Spirit of Women event brings women of all ages together to meet and share ideas and experiences about their health and Women's Health and Surgery Center is proud to be part of this exciting event again this year.