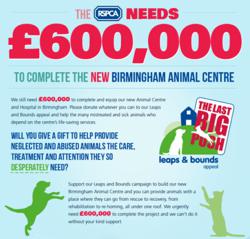 The charity has actually been dedicated to helping suffering animals for almost 150 years and we want to carry on making history for many more years to come.
(PRWEB UK) 18 October 2012
The RSPCA needs support, either through donations or fundraising, to complete the project and to increase awareness it has produced a brand new infographic as part of the Leaps and Bounds campaign. The infographic (attached) highlights the plight of mistreated animals that come into the RSPCA's care, like Konrad, a fluffy white cat who was rescued from a group of children that were kicking him in the street; or Maggie May, a dog that had her back broken and was stabbed with a potato peeler. The infographic also underlines the urgent need for the new centre, due to the old centre being at breaking point.
A New Beginning
The new state-of-the-art centre is to replace the old Barnes Hill site, which is struggling to cope with the increasing demands placed on it. The old site can no longer cope with the sheer volume of mistreated and abused animals, in particularly dogs and cats, and the new site is essential for the future of animal care in the area.
The new centre at Newbrook Farm will provide animals with an ideal place to go from rescue to rehoming, all under the same roof. Its facilities include a world-class animal hospital, a training centre to ready animals for rehoming, and an education centre to forge closer links with the community.
Daniel Gittens, acting animal centre manager, said: "Although we will be sad to leave Barnes Hill (the old RSPCA Birmingham Animal Centre), having seen so many animals through from sorry beginnings to happy endings, we are really looking forward to welcoming many more animals to the new centre. We will be able to care for and treat many more animals in need than ever before.
"The charity has actually been dedicated to helping suffering animals for almost 150 years and we want to carry on making history for many more years to come. Barnes Hill will always have a special place in our hearts, but it was just too old, too small and had been patched up too many times.
"The new centre offers the chance to create a lasting legacy for the city and a symbol for the community's commitment to help us combat animal cruelty.  The people of Birmingham have been very generous in their support for the new centre and we hope that support will continue as we carry on working hard for the animals and their future."
Whatever you can give will be put to work to help the new Newbrook Farm Animal Centre save, protect and care for animals who have suffered neglect and cruelty, so please donate now.
Ends
Notes to editors:
Assets
To find out more about the Leaps and Bounds campaign, head to the website: http://www.leapsandbounds.rspca.org.uk
To view and embed the infographic, please see the attached image on this release.
Animal Centre Information

The New Site - Newbrook Farm, Birmingham
A purpose built facility, designed with animal welfare in mind
Kennels for 60 dogs at any one time
Cattery space for 160 cats
Increased space for small animals
42,000 m2 development set in 72 acres
An animal hospital, with state-of-the-art facilities
Isolation facilities for sick animals
A night arrival centre for animals rescued out of hours
A training centre, perfect for getting animals ready to be re-homed
An education centre, for teaching the local community about animal welfare
The Old Site - Barnes Hill, Birmingham
A facility in a busy, urban environment with a high crime-rate
50 small kennels, built in the 60s
Space for 100 cats
Donation Details
Just £15 will help complete the new cattery so cats like Konrad can receive the professional care and attention they need from our animal centre staff.
A donation of £50 would help finish the construction of a new kennel to help dogs like Maggie May make a full recovery from her horrendous injuries.
-Text 'RSPCA' to 70800

Call on 0300 123 8001
Send a cheque to: RSPCA, Valldata House, 2S Halifax Road, Melksham, SN12 6YY