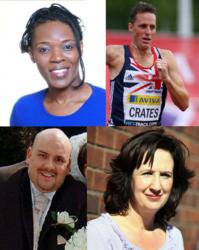 Every exhibitor, speaker, and performer at the event is passionately dedicated to the IDPwD's theme for this, its 20th year: Removing barriers to create an inclusive and accessible society for all
Chelmsford, Essex (PRWEB UK) 19 October 2012
Visitors can experience a taste of everything the disabled community has to offer, from sports and the arts to music and dance, along with the opportunity to hear motivating speeches from high-profile disabled diplomats, campaigners, musicians, inventors and athletes. The event has a packed programme, and throughout the day a diverse range of performers will be showcasing their talents. Sports enthusiasts can find out more about activities from amputee football to sitting volley ball, while those looking for quieter forms of exercise can try out a yoga class.
Every exhibitor, speaker, and performer at the event is passionately dedicated to the IDPwD's theme for this, its 20th year: "Removing barriers to create an inclusive and accessible society for all."
Run by innovative community interest company Dancing Giraffe in partnership with Chelmsford City Council and Anglia Ruskin University, the day will include inspirational talks from speakers including Paralympians Danny Crates, Anne Wafula Strike, speaker and marathon runner Chris Moon, and 7/7 survivor and access campaigner David Biddle.
This inspirational event will be held on Saturday, 1 December 2012, at Anglia Ruskin University, Chelmsford. The event is free, however many of the talks and performances require a ticket. To register for tickets, please visit http://www.idpwd.org
ADDITIONAL INFORMATION:
International Day for People with Disabilities is a United Nations sanctioned day that aims to promote an understanding of people with disability and encourage support for their dignity, rights and well-being. The day seeks to increase awareness of the benefits of the integration of people with disability in every aspect of political, social, economic and cultural life.
IDPwD brings together individuals, businesses, community organisations, and governments from every corner of the world to celebrate and acknowledge the contributions, skills and achievements of people with disability.
Dancing Giraffe is an innovative internet community site, providing "joined up" communication to people with disabilities and their carers. This website aims to not only support and inform, but to challenge, inspire and empower disabled people. It includes engaging editorial and comprehensive content, up-to-date reference and signposting together with user forums and social media.
International Day for People with Disabilities speaker programme:
Chris Moon MBE; Clarence Adoo MBE; Danny Crates; Anne Wafula Strike; Daniel Biddle; Ray Edwards MBE; Jane Cordell; Fergus Williams (Walking with the Wounded); Richard Sayess; Stuart Holt; Stephen Mehmet